Hawkeye Fan Shop — A Black & Gold Store | 24 Hawkeyes to Watch 2016-17 | KinnickEdge.org | Hawk Talk Monthly — Dec. 2016 | Outback Bowl Tickets | Outback Bowl Central | Outback Bowl Merchandise | Outback Bowl Tours | 2017 Outback Bowl Media Guide | VIDEO — Iowa's Outback Bowl History
Editor's Note: The following first appeared in the University of Iowa's Hawk Talk Daily, an e-newsletter that offers a daily look at the Iowa Hawkeyes, delivered free each morning to thousands of fans of the Hawkeyes worldwide. To receive daily news from the Iowa Hawkeyes, sign up HERE.
By JAMES ALLAN
hawkeyesports.com
IOWA CITY, Iowa — There were times during the 2016 regular season when the University of Iowa offensive line got knocked down, but the Hawkeyes always got back up.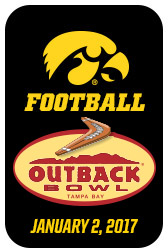 There was the North Dakota State game or the home loss to Northwestern. The Hawkeyes' backs were against the wall following a 41-14 road loss at No. 12 Penn State on Nov. 5.
 
"When you get knocked down once, it's easy to get up," said UI offensive line coach Brian Ferentz. "What about when you get knocked down twice, will you keep getting up? 
 
"(Our guys) did and they started knocking other people down. Then they kept doing it. They didn't take any mercy on them, which is a good thing."
 
The Hawkeyes' season was in the balance following the humbling loss in Happy Valley with No. 2 Michigan coming to Kinnick Stadium on Nov. 12.  It didn't take long for Ferentz to know that Iowa was going to battle.
 
"The first play we ran a little insert play and it made about seven yards," said Ferentz. "There was a sense in the stadium that, 'OK, this is going to be a fight.'
 
"From the start of that game — on offense, defense, and special teams — it was apparent that this was going to be an Iowa football team. Nobody in the first quarter could have told you what was going to happen, but they knew it was going to be a fistfight. It kind of snowballed from there."
 
When Keith Duncan's field goal sailed through the uprights to give the Hawkeyes a walk-off 14-13 victory, it served as a springboard that led Iowa to the 2017 Outback Bowl — the program's 10th January bowl game in 16 years.
 
Iowa followed with a 28-0 win at Illinois, where the offensive line paved the way for 262 rushing yards and the Hawkeyes closed the regular season with a dominating 40-10 victory over 15th-ranked Nebraska to finish with an 8-4 record.
 
"You have to give credit to the players because it would have been easy to give in," said Ferentz. "There was a lot of dirt being shoveled on them, but they came to work every day and began to improve.
 
"There were tough days along the road, but the guys stayed the course, continued to work and improve each day and came back with a positive attitude. No matter who was in the game, they found a way to get it done, found a way to win."
 
The offensive line overcame injuries, using seven different starting combinations through 12 games.  Eight players started at least one game during the season.
 
The Hawkeyes overcame the adversity to win the Joe Moore Award — an honor presented to the most outstanding offensive line in college football.  It was a collective effort; Iowa didn't have a first or second-team All-Big Ten selection.
 
"We talk about it all the time, the sum is always going to be better than the parts if you're going to have a winning football team, especially at the University of Iowa," said Ferentz.
 
"Every guy that played should feel very much a part (of receiving this award), just like the guys that didn't play because there are a lot of things that go on behind the scenes. Some guys don't make it out on the field on game day, but we had a lot of guys that did work just to help us practice.
 
"I hope everybody feels that sense of accomplishment about the award."
 
The Hawkeyes return to action Jan. 2, facing No. 17 Florida in the Outback Bowl. Game time is set for noon (CT) from Raymond James Stadium in Tampa, Florida.
 
"We're playing a good football team up front, I have been impressed with a lot of their players," said Ferentz. "We're up to the challenge, but it's going to be a big challenge."