Hawkeye Fan Shop — A Black & Gold Store | 24 Hawkeyes to Watch 2016-17 | KinnickEdge.org | Hawk Talk Monthly — Dec. 2016 | Outback Bowl Tickets | Outback Bowl Central | Outback Bowl Merchandise | Outback Bowl Tours | 2017 Outback Bowl Media Guide | VIDEO — Iowa's Outback Bowl History
By DARREN MILLER
hawkeyesports.com
IOWA CITY, Iowa — At 10:03 a.m. on Saturday, December 17, 2016, Desmond E. King II gave his mother a priceless gift.
 
It was at that moment when King was handed a diploma, signifying that he had officially received a bachelor's degree in African American Studies from the University of Iowa. He had millions of reasons to leave for the National Football League after a banner 2015 football season, but there was one motivation tugging him back — a bachelor's degree.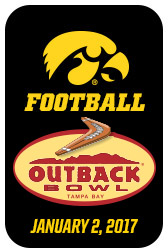 So on a cold, snowy Saturday morning inside Carver-Hawkeye Arena, where basketball players play, wrestlers wrestle, and gymnasts perform, a football player made dreams come true.
 
"It's a big accomplishment," King said. "I did it for my mom. That was the main reason for coming back to school: to get my degree and surprise my mom with graduating and walking across the stage."
 
King, a native of Detroit, made the most of his brief moment on the commencement platform. After shaking hands with Executive Vice President and Provost Barry Butler, King took out his smart phone and snapped a selfie with the provost.
 
There was extra incentive for euphoria: King is the first member of his family to earn a college degree.
 
"I'm happy, relieved, and excited about the future," said his mother, Yvette Powell. "I am trying to hold back the tears."
 
Many Hawkeye fans feared this day would never come. Especially after King's junior season when Iowa finished 12-2, won the Big Ten West Division, and played in the Rose Bowl Game. King was fantastic, compiling 82 tackles, eight interceptions, and returning punts and kicks for 949 yards. He was a unanimous consensus All-American, received the Jim Thorpe Award as the nation's best defensive back, and was a finalist for Walter Camp Player of the Year.
 
"The most lasting accomplishment any player will have when they come to college is getting their degree," Iowa head coach Kirk Ferentz said. "Whether they win the Doak Walker Award or the Jim Thorpe Award, at the end of the day, getting their degree is something that's going to be with them their entire lives."
 
While King game-planned for Michigan and Nebraska, he also studied for classes like Race, Ethnicity, and Media and The Civil Rights Movement. The extra year at Iowa made King a better student-athlete and leader among his peers.
 
Entering the 2017 Outback Bowl, King — a repeat first-team All-Big Ten selection and All-American — has 53 tackles, seven pass break-ups, and two interceptions. He has returned 25 kicks 680 yards (27.7 average) and 25 punts 245 yards (9.8 average).
 
"Desmond graduated in three and a half years, which is remarkable in itself," said Iowa strength and conditioning coach Chris Doyle. "When he came back, he made the decision to unselfishly commit to another year of college football for the betterment of this football program. It made a big statement about his maturity and what he felt was important. That resonates with his teammates."
 
Even with a diploma — and barring a major catastrophe — King will spend his first few years as a professional playing football. It is an unforgiving vocation where, on average, cornerbacks last 2.94 years.
 
"College football is a pretty good deal," Ferentz said. "The NFL will be there when you get to that time. Desmond is going to have a nice career; everything has its time and place. Patience is a good thing."
 
As of Saturday morning, King has a backup plan in life.
 
And it brought his mother to tears.