Hawkeye Fan Shop — A Black & Gold Store | 24 Hawkeyes to Watch 2016-17 | KinnickEdge.org | Hawk Talk Monthly — Dec. 2016 | Outback Bowl Tickets | Outback Bowl Central | Outback Bowl Merchandise | Outback Bowl Tours | 2017 Outback Bowl Media Guide | VIDEO — Iowa's Outback Bowl History
Editor's Note: The following first appeared in the University of Iowa's Hawk Talk Daily, an e-newsletter that offers a daily look at the Iowa Hawkeyes, delivered free each morning to thousands of fans of the Hawkeyes worldwide. To receive daily news from the Iowa Hawkeyes, sign up HERE.
By RICK BROWN
hawkeyesports.com
IOWA CITY, Iowa — Ben Niemann was a star receiver in high school, with 48 catches for 1,050 yards as a senior. He also played safety on defense. Josey Jewell nearly stayed in his hometown of Decorah and played for Luther College, until Iowa came in with a scholarship offer on the eve of signing day.  Bo Bower joined the program as a walk-on.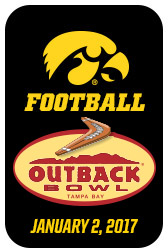 Together, the three have made linebacker a position a strength on a Hawkeye team that faces No. 17 Florida in the Outback Bowl on Jan. 2.
 
"We have three guys right now that we have a lot of confidence in," UI head coach Kirk Ferentz said Thursday. "They're going to be tested in this game. (Florida's) got a big offensive line, and good skill players."
 
The Niemann-Jewell-Bower trio have given Iowa its best collective play at linebacker since 2013, when Christian Kirksey, James Morris and Anthony Hitchens were seniors. Kirksey is now with the Cleveland Browns, while Hitchens and Morris are with the Dallas Cowboys. Morris is currently on injured reserve.
 
Bower and Morris were redshirting as freshmen in 2013. Niemann came in the following season. Niemann said he has watched tape of Kirksey, Morris and Hitchens at Iowa.
 
"Obviously three great players," Niemann said. "If our linebacker corps can get to that level, that would be tremendous. Those are three great players we can learn from."
 
Bower starts at weakside linebacker, and is a symbol of persistence. He started in 2014 at outside linebacker, but was moved to weakside linebacker in 2015 and lost the starting job to Cole Fisher. Niemann took over the starting outside linebacker spot in 2015 and Jewell has been a starter since the ninth game of the 2014 season.
 
"All three of those guys have a lot of starting experience," Ferentz said. "One of the good stories in that group is Bo Bower. You talk about guys who have good attitudes, Bo was a starter, then not a starter, now he's back as a starter. I never saw Bo look discouraged. I'm sure he was, I'm sure there were times when he didn't feel great about the situation, but he never showed it. He just kept working hard.  We came into camp this year really not knowing who would be our will linebacker. Like a year ago, when Cole Fisher won the job, Bo ascended and really did a good job and hasn't looked back. He's one of those guys we'll use as an example down the road about the proper attitude."
 
Niemann, Jewell, and Bower have started every game this season. Niemann plays in Kirksey's spot, asked to cover both receivers and help stuff the run. Bower is a modern-day Hitchens and Jewell is like Morris, the disruptive man in the middle.
 
Jewell was named a permanent captain last season. He led the Big Ten in tackles with 114 this season, and was one of five finalists for the Butkus Award.
 
"He's the leader of our linebacker corps and our entire defense, as well as one of the big leaders on our team," Niemann said. "He's not overly vocal, but when he speaks, you listen. Usually, when he has something to say it's important, but he does lead by example well.  He plays hard, physical, and leaves it all on the field at all times."
 
Bower was second in the team in tackles with 88.
"He made strides," Niemann said. "He moved to the will linebacker and he's getting more and more comfortable. In the last three games he played well. He made some good open-field tackles."
 
Niemann was fourth on the team with 66 tackles, including three for a loss. He also had an interception.
 
Put it all together and the linebacker spot has a bright future heading into the Outback Bowl and the 2017 season.
 
 "We have a long way to go," Niemann said. "Fortunately, we'll all be able to play together next year. We're all looking forward to that.  We're just trying to finish this game strong."
 
Iowa's 2016 season reached a make-or-break point after a 41-14 loss at No. 12 Penn State on Nov. 5. The Nittany Lions racked up 599 yards of total offense. The film session the following day was not pleasant for anyone who played on the defensive side of the ball.
 
"That was frustrating," Niemann said. "That was one of the lowest points we've faced. We saw our mistakes and we responded, honestly. The response we had, that changed our season. It was a tough spot to be in, but we answered the bell."
 
A week after the discouraging trip to Happy Valley, the Hawkeyes answered with a 14-13 upset of No. 2 Michigan at Kinnick Stadium.
 
"Penn State was the lowest of lows," Niemann said. "We were upset and frustrated. After that Michigan game, it was excitement and pure joy."
 
But there was no time to celebrate. There were games remaining at Illinois and against No. 15 Nebraska at home.
 
The Hawkeye defense passed both tests, shutting out the Illini in Champaign and allowing the Cornhuskers just 10 points. After Penn State's 599 yards, the defense gave up a total of 616 yards in that three-game winning streak to end the regular season.
 
"You're going to go through highs and lows as a team and as individuals," Niemann said. "You can't ride that emotional rollercoaster. You've got to stay at an even keel."
 
A trip to the Outback Bowl, and a meeting with Florida, was the Hawkeyes' reward. More consistent linebacker play has been a big reason why that happened.