KinnickEdge.org | Outback Bowl Central | Hawkeye Fan Shop — A Black & Gold Shop | 24 Hawkeyes to Watch | Google Play | Apple App Store
IOWA CITY, Iowa — Just in time for the holidays, the University of Iowa Athletics Department has launched a HawkeyeSports App, presented by U.S. Cellular in the Apple's App Store and Google Play.   Iowa fans can download the Hawkeye mobile experience free to access news, video, and social media for Hawkeye athletics.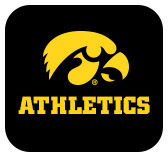 "Our goal in our new app is to enhance and deliver the best mobile experience to Hawkeye fans, whether they are in our venues or across the country.  The HawkeyeSports App is able to deliver our content in a clean, mobile presentation, making it easy for fans to access the Hawkeyes," said Charlie Taylor, associate athletics director for strategic communications and marketing.  "The HawkeyeSports App is the one-stop shop of Iowa athletics on mobile devices.  Fans can access Hawkeye news, stories, ticket information, photo galleries, Iowa All-Access, the Hawkeye Fan Shop, game day information, promotions, the Kinnick Edge, and much more." 
The HawkeyeSports app, presented by U.S. Cellular, will deliver new features including push notifications for breaking news, live stats from the official in-game stats programs, video, social media and online content.  Fans will also be able to link to live TV broadcasts of events and live radio broadcasts, when available. 
Also included in the app is LISNR technology, which, if selected by the user, activates fans phones to receive content at games they will not be able to access at home.  Content will include game specific stats, messages, and in-venue discounts.  Future applications of this technology will include fans' devices participating in pregame player introductions and overall game presentation.  Iowa athletics will roll this feature out in the near future.
Features include: news, rosters and schedules, advertising, statistics (box scores and player stats (web view), photo galleries, iCal snyc, ultrasonic proximity marketing and collection of usage data and analytics.
"Our partnership with technology partner, Sidearm Sports, has been fantastic, and we cannot wait as the app continues to evolve over the coming year," said Taylor.  "Hawkeye fans live on their devices and are tech savvy.  We are excited to grow with our partners to provide the best possible mobile experience for Iowa fans."
For fans who have suggestions and want to let UI athletics know what they think of the new HawkeyeSports App, presented by U.S. Cellular, please email comments to gohawks@hawkeyesports.com.