Hawkeye Fan Shop — A Black & Gold Store | 24 Hawkeyes to Watch 2016-17 | Hawk Talk Monthly — Dec. 2016 – http://catalog.e-digitaleditions.com/i/757416-december-2016
IOWA CITY, Iowa — Rade Tanaskovic (pronounced Rah-day Tah-NAS-Kov-itch) has been named an assistant coach with the University of Iowa soccer program, UI head coach Dave DiIanni announced Friday.  Tanaskovic will coach the Hawkeyes' goalkeepers.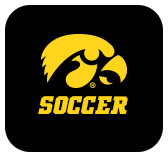 "We are excited to add Rade to our staff as he brings an incredible amount of experience and knowledge of training the highest level goalkeepers in this country," said DiIanni. "His experience coaching and recruiting in the ACC will benefit the University of Iowa in the immediate future and beyond.
 
"Rade is a well-known and respected coach among our colleagues. He not only does a great job with the goalkeepers, but he excels as a recruiter, field coach, and in the scouting of opponents. Rade is a passionate, competitive individual who loves to teach and develop soccer players.  It's what makes him such a great addition to our staff, family, and program."
 
Tanaskovic comes to Iowa City after a two-year stint at Louisville, where he helped the Cardinals to 15 victories in two seasons.  Tanaskovic coached two All-ACC selections, including goalkeeper Taylor Bucklin in 2015.
 
"I am thankful to coach DiIanni, director of athletics Gary Barta, Mark Hankins, Barbara Burke, and the search committee for believing in me and giving me the opportunity to be part of this superb university," said Tanaskovic, a native of Barzilovica, Serbia. "As I was going through the process, it was obvious to me that the entire university cares deeply about its student-athletes and their development by providing them with a fantastic education and giving them all the support they need to be successful on and off the field and in life after college.
 
"I have been blessed to be able to work with some remarkable individuals in my career, and that trend is going to continue at the University of Iowa. I believe Dave and (assistant coach) Erica (Demers) are great people with outstanding soccer minds, and I am excited to work with, learn from, and grow alongside of them. My wife Courtney and I cannot wait to move to Iowa City and meet all of the players that make this program special and join the community and Hawkeye family."
 
Before making the jump to Division I soccer, Tanaskovic spent two years as an assistant coach at NCAA Division II Columbus State University, where he was responsible for team's defense and goalkeepers.  He also was a men's assistant coach at Emmanuel College in 2012.
 
In 2014, Tanaskovic helped guide Columbus State to a 21-1-1 overall record, winning the PBC regular season and tournament titles. The Cougars won their region and were an NCAA Tournament Elite Eight participant.  The team finished with a 0.52 goals against average and posted 14 shutouts.
 
Tanaskovic has a wealth of coaching experience at a variety of levels — professional, college, high school, and club.  He began his coaching career with FC Red Star (formally known as ZFK LASK), serving as an assistant and goalkeepers coach from 2004-07.
 
Following his tenure with FC Red Star, Tanaskovic came to the United States, where he played four seasons at the University of North Georgia. He was a three-time All-Peach Belt Conference performer, and finished his career seventh in program history with a 0.91 goals against average.
 
Tanaskovic, who has served as a goalkeeper coach for the Georgia Olympic Development program, earned his NSCAA Goalkeeping Level 1 and 2 diplomas in 2012 and his US Soccer Federation C license in 2014.
 
He graduated from North Georgia with a bachelor's degree in health and physical education in 2011.  He is married to the former Courtney Cantrell.