Hawkeye Fan Shop — A Black & Gold Store | 24 Hawkeyes to Watch 2016-17 | KinnickEdge.org | Hawk Talk Monthly — Dec. 2016 | Outback Bowl Tickets | Outback Bowl Central | Outback Bowl Merchandise | Outback Bowl Tours | 2017 Outback Bowl Media Guide | VIDEO — Iowa's Outback Bowl History | Beach Bash Photo Gallery | Friday Practice Photo Gallery
By SAM STYCH
hawkeyesports.com
 
CLEARWATER, Fla. — It wasn't your typical Florida afternoon at the beach Friday with winds howling and sub-60-degree temperatures, but the Hawkeye faithful showed up to Outback Bowl Beach Bash in layers, literally and figuratively, awaiting the arrival of the University of Iowa football team.
 
While the Hawkeyes were wrapping up practice, fans shied away from the cold waters and conversed while taking in performances from each school's marching bands and spirit squads.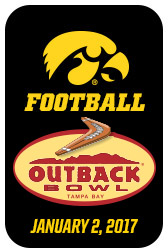 Although the football team fell short in friendly bowling and hockey competitions earlier in the week, the Iowa cheerleaders — comprised of six-member men and women's teams — pulled off victories in a game of tug of war.
 
Midway through the festivities at Clearwater Beach, 18th-year head coach Kirk Ferentz made his way to the stage, where he was greeted by a loud roar from a swarm of black and gold.   
 
"A big thanks to all the fans who came out today," said Ferentz.  "You have been great all season long.  It doesn't matter where we play, we have great fan support. This is our fifth trip to Tampa since 2003 and we appreciate the hospitality; it is always tremendous and we are thrilled to be back here.
 
"We have had beautiful weather since we got here on Monday, but it's a little cooler today.  Today was a good day for our guys to recover before we fine tune some things for Monday."
 
The fans are what Beach Day is all about and the Hawkeyes enjoyed their time with friends and family before Monday's game.
 
"It's a little bit colder than I would have liked it to be, but it's great that we can interact with the fans and sort of take in the whole Outback Bowl experience," said sophomore safety Brandon Snyder.  "The tug of war was fun to watch, but the best part was being able to visit friends and family."
 
"Beach Day is a great experience," said freshman tight end Noah Fant.  "We get to interact with the fans who show us so much support throughout the year.  It's a great concept."
 
When asked if he would test out the waters on such a chilly day, Fant laughed and gave a big maybe.
 
"I might dip my feet in the water at some point today," said Fant.  "We don't have oceans back in Iowa, so you can't pass up the opportunity.  It's not the nicest weather today, but we're still making the most of our time here at Beach Day."
 
Though the Hawkeyes enjoyed their afternoon on the beach, the focus remains solely on Monday's Outback Bowl.  Kickoff is slated for 12:07 p.m. (CT) at Raymond James Stadium.