Hawkeye Fan Shop — A Black & Gold Store | 24 Hawkeyes to Watch 2016-17 | KinnickEdge.org | Hawk Talk Monthly — Dec. 2016 | Outback Bowl Tickets | Outback Bowl Central | Outback Bowl Merchandise | Outback Bowl Tours | 2017 Outback Bowl Media Guide | VIDEO — Iowa's Outback Bowl History | Practice Photo Gallery | Clearwater Beach Photo Gallery
By DARREN MILLER
hawkeyesports.com
TAMPA, Fla. — Ernest Rutherford didn't play or coach football. As a physicist, it is almost certain he never saw the American version of the sport.
 
But something Rutherford said long ago can be applied to football…and specifically Monday's Outback Bowl tussle between No. 21 Iowa and No. 20 Florida in Raymond James Stadium.
 
"If your experiment needs statistics," Rutherford said, "you ought to have done a better experiment."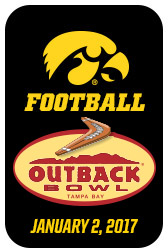 In other words, throw out the fact that in the final three regular season games, the Hawkeyes allowed 201 yards (to No. 2 Michigan), 198 (on the road at Illinois), and 217 (to No. 15 Nebraska). The most important thing is that Iowa's defense is playing extremely well and the Hawkeyes are on a three-game winning streak.
 
So while it's true Iowa surrenders 146.1 rushing yards and 204.6 passing yards per game over the long haul, defensive coordinator Phil Parker breaks it into much simpler, intangible terms.
 
"We want to be the best defensive team on the field and you have to be physical, tough, and tough-minded," said Parker following Friday's practice at the University of Tampa.
 
By all accounts, the Hawkeyes have made improvement since dismantling Nebraska, 40-10, on Nov. 25. But their postseason opponent, Florida (8-4), is not Nebraska. Or Illinois. Or Michigan. Is that good, bad, or indifferent? Maybe to those counting first downs and yards allowed, but Parker and his band of student-athletes are focused on fundamentals and continued improvement more than, for example, allowing 504 yards at Purdue in a game the Hawkeyes led by four touchdowns with 15 minutes to play.
 
"You improve each week, that's something we buy into," said senior All-America cornerback Desmond King. "You're working to get better and trying to bring the team together collectively. It comes down to who is going to be the toughest defense on the field?"
 
That is the challenge. Florida is third in the NCAA in pass defense (156.3 yards per game) and sixth in total defense (298.6). Iowa is 28th and 24th in those categories.
 
"We have made major improvements on defense ever since that Penn State game," senior defensive tackle Jaleel Johnson said. "Something had to happen and it did. We picked up our game a little bit and we kept rolling. Hopefully we can do the same thing against Florida."
 
This will not be the same Hawkeye defense that in the month of November held two nationally ranked opponents in check or registered its first shutout in 85 games. According to Parker, it is an enhanced version.
 
"Besides giving those guys time off, over the last month there is great improvement with our whole team," he said.
 
That brings us back to statistics. The Gators are ranked sixth nationally in total defense. In the final three games, Florida has allowed, on average, 394 yards per game. During that same time, the Hawkeyes have allowed an average of 205.3 yards per game.
 
"We're trying to keep improving," said senior linebacker Josey Jewell. "I don't know how much we have gotten better, but we'll find out soon."
 
In three days.
 
Because at 12:07 p.m. (CT), when Iowa from the Big Ten and Florida from the SEC get on the same field at the same time, everyone will know who has the better defense.