Hawkeye Fan Shop — A Black & Gold Store | 24 Hawkeyes to Watch 2016-17 | KinnickEdge.org | Hawk Talk Monthly — Dec. 2016 | Outback Bowl Tickets | Outback Bowl Central | Outback Bowl Merchandise | Outback Bowl Tours | 2017 Outback Bowl Media Guide | VIDEO — Iowa's Outback Bowl History | Photo Gallery
By DARREN MILLER
hawkeyesports.com
TAMPA, Fla. — At 7:39 p.m. (ET), the familiar sound of AC/DC's "Back in Black" filled Amalie Arena prior to the Toronto-Tampa Bay NHL hockey game. It was a comforting tune for the University of Iowa football players in attendance, four days before the 2017 Outback Bowl.
 
Would it also be an indication of good things ahead for three Hawkeyes who would take on three members of Florida's football team in a tricycle race/puck shoot/football spike on the ice?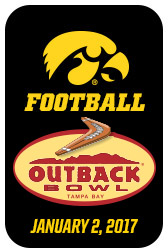 The good news for the Hawkeyes after the event was 1) No one was injured, and 2) Iowa is here to play football. Because, like the bowling challenge two days earlier, the Florida contingent emerged victorious.
 
"Hopefully the football game is a little different than the bowling and hockey game," said Iowa senior tight end George Kittle. "We're looking forward to playing football, we're not here to play hockey."
 
At the second intermission (Tampa Bay and Toronto were tied 2-2 at the time in case any of the sellout crowd of 19,092 were there to watch hockey), the Gators joined Kittle, senior wide receiver Riley McCarron, and senior punter Ron Coluzzi on the ice. Contestants pedaled the length of the arena on a small tricycle, grabbed a stick, and shot pucks until one found the net. A second and then third teammate repeated the sequence heading in an opposite direction.
 
The competition was close, but…
 
"I would rather kick a game-winning field goal against Michigan 10 out of 10 times than win this," Coluzzi said. "I was more nervous for that; my blood pressure was rising. I think my face is still red. The sun down here is different, so I feel like a stick of butter melting over a stack of flapjacks. It's pretty intense."
 
Kidding aside, the bowling and hockey competitions were for participation ribbons. A good time was had by all.
 
"This has been a really fun night for us," Kittle said.
 
"It was a lot of fun," Coluzzi said. "It was pretty crazy down there, the atmosphere was really cool. I missed two of my first slap shots, but it was a lot of fun."
 
Iowa (8-4) and Florida (8-4) play for keeps Monday in the Outback Bowl. Kickoff is set for noon (CT).
 
"I'm excited to play those guys," Coluzzi said. "They have a great team and it will be fun."
 
For the record, Toronto won the real hockey game, 3-2, in overtime.