Hawkeye Fan Shop — A Black & Gold Store | 24 Hawkeyes to Watch 2016-17 | KinnickEdge.org | Hawk Talk Monthly — Dec. 2016 | Outback Bowl Central
By DARREN MILLER
hawkeyesports.com
TAMPA, Fla. — Life without LeShun Daniels, Jr., in the backfield begins now for the University of Iowa football program and Akrum Wadley is primed to fill the void.
 
The Wadley-Daniels duo combined for 2,139 rushing yards and 20 touchdowns, becoming the first set of running backs in program history to have 1,000-plus rushing yards in the same season.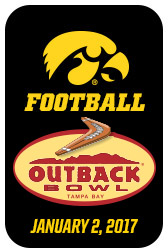 Wadley turned in the ninth 100-yard rushing performance of his career — and sixth of the season — when he picked up a game-high 115 yards on 22 carries against Florida on Monday in the 2017 Outback Bowl. It is just the fifth time this season the Gators allowed an opponent more than 100 rushing yards in a game.
 
But sticking to his New Year's resolution, Wadley wouldn't talk about "me, me, I, I," in a postgame interview, instead he gave kudos to the Hawkeye offensive line and fullbacks.
 
"Hats off to our offensive line," Wadley said. "They are the ones that took me over 1,000 yards — guys like Ike (Boettger), Sean Welsh, James (Daniels), Boone (Myers). They are working hard and they took the stress off me and LeShun a lot this year."
 
Monday marked the third bowl appearance for Wadley, who picked up 14 yards in the first quarter, 38 in both the second and third, and 25 in the fourth. He also accounted for four of Iowa's seven pass receptions and his 136 all-purpose yards were 34 more than anyone else on the field.
 
"You have to give credit to the running backs, too," Iowa junior guard Sean Welsh said. "They have done a good job of making our jobs easier. There were times when we didn't help them out a lot and they still found a way to make it happen. They do a great job."
 
In three previous postseason games (including the 2015 Big Ten Championship), Wadley had a combined 17 rushing attempts for 48 yards and six receptions for 94 yards and a touchdown.
 
Wadley weighs 191 pounds and if he is going to endure as a workhorse next fall, he needs to add weight to his 5-foot-11 frame. His backfield mate is sure he can handle a heftier load.
 
"Akrum has the right attitude, especially going through the year splitting carries," Daniels said. "He's more than good enough to start at many schools; him being here next year is going to propel his role even more and he will be primed for a big year."
 
Wadley, a junior, said he is intrigued about playing in the NFL next season. If he stays with the Hawkeyes, it would be the first time the program returned a 1,000-yard rusher since Albert Young in 2005. The last Iowa running back to post back-to-back 1,000-yard seasons was Fred Russell in 2002 (1,264) and 2003 (1,355).
 
"Maybe I can increase my draft stock a little higher and have a better year than this year," Wadley said.
 
Four of five starting offensive linemen and the top two fullbacks return next season for Iowa. It is a group that paved the way for the Hawkeyes to gain an average of 171.8 yards on the ground and nearly two rushing touchdowns per game.
 
"They are experienced. I came in with a few of these guys and I know they have my back and are going to put it all on the line," Wadley said. "All I have to do is cut off their blocks and give my all every game."
 
With his Outback Bowl effort, Wadley joined 68 other Division I running backs to gain at least 1,000 rushing yards. Of that group, 53 are eligible to return next season. Daniels is one of 16 seniors in the 1,000-yard club.
 
"You can't recreate your senior year, because you put in so much time, blood, sweat, and tears playing with your brothers," Daniels said. "I don't have any regrets and I wouldn't take anything back."
 
After the Outback Bowl, Wadley was asked about a momentum swing in the second quarter when the Hawkeyes were stopped on fourth-and-goal from Florida's 1-yard line with the game tied, 3-3.
 
"A football game is four quarters," Wadley said. "You have to come back and be resilient and be able to bounce back."
 
Ironically, a college football career is four seasons and Wadley has one remaining. What would be the strongest force pulling him back for his senior season?
 
"Win a bowl game," he said.