IOWA CITY, Iowa – Greg Davis, offensive coordinator and quarterbacks coach for the University of Iowa football program the past five seasons, announced his retirement Friday, concluding a 43-year career in the college football coaching ranks.
 
"I cannot thank Greg Davis enough for what he has meant to Iowa football these past five seasons.  Greg possesses a great football mind, and he brought a perspective and expertise to our program that made every one of our coaches and players better," said Iowa head football coach Kirk Ferentz.  "Greg's coaching career spanned five decades, from high school to the biggest stage in college football — and each day he exemplified passion for the game while instilling character in his players.  That is 'love for the game' and without Greg, there's a little less of that in football today.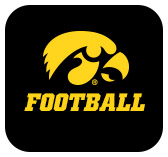 "Greg will be the first to admit he owes so much of his coaching success to his wife, Patsy.  They were a wonderful team in Iowa City and all of us with the Iowa football program wish them the very best."
 
With Davis on staff, the Hawkeyes won 39 games over the past five seasons, including a combined 20 wins over the past two years.  The Hawkeyes appeared in four January bowl games, including the 2016 Rose Bowl Game.  The Hawkeyes won the Big Ten's West Division in 2015 while posting a school-record 12 wins.
 
"I have had a wonderful five years with the Hawkeye football program.  I would like to thank coach Ferentz, the entire staff, our players, and Iowa fans everywhere," said Davis. "Patsy and I have enjoyed our time in Iowa, and not just the football part of it.  The people of Iowa City and Hawkeye fans have been great.  While we have our home in Dallas, there is no doubt we will be Hawkeye fans forever.
 
"This is my decision, but not a decision that was reached lightly.  I remain passionate about the game of football, and enjoyed teaching football to our players every day.  Patsy has been a trooper through all these years; we have learned and enjoyed every step along the way.  It's time for me to get closer to our family.
 
"I'm not sure the people of Iowa realize how special Kirk Ferentz is, and I am not talking about just the football part of the equation," said Davis.  "The men who leave this program are prepared for life, for careers, to be great husbands and fathers.  Kirk is the total package for what anyone would want in a head coach."
 
Davis joined the Iowa coaching staff after serving as offensive coordinator at the University of Texas for 13 seasons (1998-2010).  He was named Frank Broyles Assistant Coach of the Year in 2005 after Texas won the BCS national championship, and was a finalist for the award in 1999.
 
Davis coached in 22 bowl games, including January bowl games (Outback twice, TaxSlayer and Rose) with the Hawkeyes the past four seasons.  He also coached in the Holiday (four), Rose (four), Cotton (three), Gator (two), Independence (two), Fiesta, Alamo, Peach and Hall of Fame bowls.  Davis coached in the BCS national championship game twice (2006 and 2010 Rose Bowl games).
 
Prior to his stint at Texas, Davis was the offensive coordinator and quarterbacks coach at North Carolina (1996-97), where he helped develop the quarterback duo of Chris Keldorf and Oscar Davenport, who teamed to complete 60 percent of their passes for more than 2,700 yards each season.
 
Davis was head coach at Tulane for four seasons (1988-91) after serving as assistant head coach and wide receivers coach there for three seasons.  Davis spent two seasons (1992-93) as offensive coordinator and quarterbacks coach at Arkansas and two years (1994-95) as Georgia's passing game coordinator, helping the Bulldogs to the 1995 Peach Bowl.  Davis began his college coaching career at Texas A&M, serving as the Aggies' quarterbacks coach (1978-84) before moving to Tulane.
 
Davis began his career in the high school ranks while working toward a master's degree.  He coached at Barbe High School (Lake Charles, Louisiana) from 1973-74 and Port Neches-Groves High School (Port Neches, Texas) from 1975-77, where he helped the Indians to the 1975 Texas 4A state title.  Davis is a native of Groves, Texas.  He earned a bachelor's degree (sports administration, 1973) and master's degree (1977) from McNeese State.
 
Davis and his wife, Patsy, have two children, Greg Jr., and Stacey, and five grandchildren.
 
Greg Jr. and his wife, Karen, have two daughters, Taylor and Kaylen.  Stacey and her husband, Kory, have three children, a daughter, Brook, and two sons, K.J. and Davis.