Hawkeye Fan Shop — A Black & Gold Store | 24 Hawkeyes to Watch 2016-17 | Hawk Talk Monthly — Jan. 2017
By DARREN MILLER
hawkeyesports.com
IOWA CITY, Iowa — Getting back to winning could be as easy as 1-2-3 for the University of Iowa women's basketball team.
 
The last time out, the Hawkeyes lost at Penn State, 71-58, dropping their record to 10-6 overall, 1-2 in the Big Ten. After eight days off, Iowa will play three games in seven days beginning with a rematch against Illinois on Jan. 11 at 7 p.m. (CT) inside Carver-Hawkeye Arena.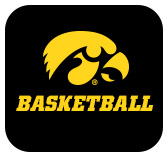 "We have been focusing on three things: bringing energy, limiting turnovers, and defensive transition," said sophomore center Megan Gustafson. "If we focus on those we should do a lot better."
 
Gustafson averages 21.3 points and 8.7 rebounds in three league games. Her season field goal percentage of 66.9 ranks sixth nationally.
 
"We're not where we want to be record-wise, but we're growing," said Gustafson, who scored 21 points with 13 rebounds during a 70-65 loss at Illinois on Dec. 28.
 
Iowa sits 10th in the Big Ten standings. Illinois (7-9, 2-1) is tied for third after defeating Rutgers, 78-41, on Jan. 7.
 
"This is an opportunity for us to even that series," Iowa head coach Lisa Bluder said. "They took it at us in the first quarter at their place, we dug a hole. Illinois is a young team that has gotten better every game."
 
Illinois led the first meeting by as many as seven points in the first quarter, forcing Iowa into seven turnovers in the first 10 minutes and 23 for the game. The Hawkeyes average 18.7 turnovers in their first three Big Ten games.
 
"Everyone makes mistakes, it's what you do after the mistakes and how you learn from it," said Iowa sophomore guard Tania Davis. "I try to take what the defense gives me — we have a young lineup, so it is understanding to take what the defense gives you and not trying to force anything."
 
Iowa is 2-3 since defeating Robert Morris, 81-60, on Dec. 9. Bluder has been pleased with the team's attitude in practices prior to giving them the weekend off.  
 
"The most encouraging thing is they came back wanting to practice and get better," Bluder said. "They were focused and energetic. That is outstanding and exactly how you have to be."
 
Iowa leads the Big Ten in field goal defense (.358) and 3-point defense (.273). The Hawkeyes look to regain their shooting prowess from outside, similar to when they made 11-of-16 from 3 against Northern Iowa and 13-of-21 against Iowa State in back-to-back games in December. Iowa is 12th in the conference in 3-point shooting (31.5 percent).
 
"You have to keep believing," Bluder said. "We are taking good 3s. We need to get that mindset back again."
 
Since beginning league play, Bluder said Illinois has relied heavily on its zone defense. The Hawkeyes made 7-of-28 from outside against Illinois, 6-of-21 against Nebraska, and 2-of-19 at Penn State.
 
"Our shot selection is pretty good, it's just getting them to go in," Davis said.
 
Iowa welcomes its return to Mediacom Court inside Carver-Hawkeye Arena. The Hawkeye are 8-2 at home this season, including a 75-72 league win over Nebraska on Dec. 31. On Saturday, Iowa hosts No. 3 Maryland before hitting the road for Rutgers on Jan. 17.