Hawkeye Fan Shop — A Black & Gold Store | 2017 Football Season Tickets | KinnickEdge.org | Hawk Talk Monthly — Jan. 2017 | A VIDEO — A Look Toward the 2017 Season | Brian/Kirk Ferentz Transcript (PDF)
By JAMES ALLAN
hawkeyesports.com
IOWA CITY, Iowa – – University of Iowa head football coach Kirk Ferentz didn't have to look far to find the third offensive coordinator in his 18-year tenure.
 
Ferentz elevated offensive line coach and run-game coordinator Brian Ferentz to the top offensive position Monday, four days after former offensive coordinator Greg Davis announced his retirement.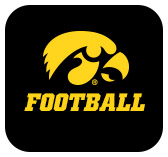 "In my judgment, he's the best person fit to lead our offense moving forward," Kirk said Monday afternoon inside the Stew and LeNore Hansen Football Performance Center. "He knows Iowa, our program, and most importantly, he knows what works here and what doesn't.  That's important for all of our coaches."
 
Kirk reached out to a handful of potential candidates upon getting the news of Davis' retirement. After careful and deliberate consideration, elevating his eldest son made the most sense.
 
"I think that was logical — he would be more than ready," said Ferentz. "He has had opportunity at other places and I am confident he would have had more opportunity at other places, too.
 
"Selfishly, whether he is my kid or not, I don't want to lose good coaches off our staff. I thought about it, and like I always do; I move like a tortoise, but this made a lot of sense to me."
 
Brian's first order of business is to help finish off Iowa's 2017 recruiting class; the Hawkeyes are expected to sign between 20-22 prospects. Then he will begin his review of the 2016 season with a fine-tooth comb.
 
In 2016, the Hawkeyes had the top offensive line unit in college football, one that paved the way for a pair of 1,000-yard rushers — a first in program history. However, at times, the passing game struggled; the Hawkeyes were held under 160 yards in seven games.
 
"We need to go back and reevaluate everything we've done and start there," said Brian. "As we move toward 2017 and the future, it's important to look at the past.  Since 1999, our program has been built on the mantra of tough, smart, and physical and that won't change, certainly not offensively.
 
"Our stated program goal is to win a Big Ten championship, and we understand that in order to compete at that level in this conference, we're going to need to have some flexibility and have the ability to change on a weekly basis and do what's best to win football games."
 
After wrapping up his professional playing career, Brian went to the "graduate school" of the New England Patriots, learning from the likes of Scott Pioli, Dante Scarnecchia, Bill Belichick, and Bill O'Brien.
 
"To work under those guys, the experience was invaluable," said Brian. "From all those people, I learned two major things. No. 1, players win football games and coaches tend to lose them.
"The second thing is the determination and relentless effort that it takes to play winning football, to play championship football and to compete at a high level."
 
Kirk says Iowa's offense won't drastically change with Brian as the offensive coordinator, but Brian says the Hawkeyes won't remain status quo either.  
 
"It's not going to look dramatically different, but there will be tweaks and adjustments," said Kirk. "I'll defer to Brian just like I deferred to Greg and Ken (O'Keefe) previous to that."
 
"I've never been shy about giving him my opinion," said Brian. "I think (Kirk) can tell you that.  At the end of the day, we all sit in that staff room and we all have the same goal. We want to win football games. I'm in a unique position; I'd be silly to sit here and tell you that I'm not.
"I'm talking on a job that certainly has challenges, expectations, and an increased amount of scrutiny that comes with it. When you add my last name and my relationship with the head coach to the mix, there is going to be added scrutiny and I understand that."
 
It's why he has given some advice to his in-laws.
 
"My in-laws are dedicated subscribers to The Gazette, and I encouraged them to stop it or at least to throw out the sports page," said Ferentz jokingly. "(The scrutiny) comes with the territory, and I don't shy away from that; I understand it."
 
It's too early to say what position group Brian will be coaching in 2017. Kirk is currently in in evaluation mode with the Hawkeye coaching staff.
 
"I am looking at everything right now," said Kirk. "My responsibility is to make sure we get everybody in the right seats.  First of all, to get the right people here — we have an opening so we'll look at that position — then we'll go from there."