Hawkeye Fan Shop — A Black & Gold Store | 24 Hawkeyes to Watch 2016-17 | Hawk Talk Monthly — Jan. 2017
Editor's note:24 Hawkeyes to Watch is a feature released Monday, Aug. 1, highlighting one athlete from each of the 24 intercollegiate sports offered by the University of Iowa. More than 700 talented student-athletes are currently busy preparing for the 2016-17 athletics year at the UI. Hawkeyesports.com will introduce you to 24 Hawkeyes who, for one reason or another, are poised to play a prominent role in the intercollegiate athletics program at the UI in the coming year.
By JAMES ALLAN
hawkeyesports.com
IOWA CITY, Iowa — Mollie Drenth wasn't supposed to be a Hawkeye, but now she can't see it any other way.
 
Drenth was a highly sought after gymnast out of Riverview, Florida. She was recruited nationally before giving a verbal commitment as a 16-year-old. Two weeks before National Signing Day, Drenth's scholarship offer was pulled.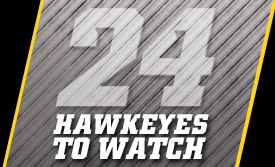 "They told me last minute they decided they didn't want me at their school," said Drenth, now a senior on the University of Iowa women's gymnastics team. "That was heart-breaking because I was set on that school."
 
"In our world, we are recruiting early," said Iowa head coach Larissa Libby. "The tendency with bigger schools is to recruit kids early, hang on to them, and possibly find somebody better. After two years, she was dropped for no reason, without any word, weeks before she was supposed to sign.
 
"She was told to return to the normal recruiting process. She had to put herself out there, not knowing what she was looking for."
 
Drenth called around. Libby was the only coach with something available. On her recruiting visit, Drenth fell in love with the university, coaches, and team.  The Florida girl even fell in love with Iowa's cold temperatures and snow.
 
"I am a true believer that everything happens for a reason," said Drenth. "Because I would not want to be at that other school. This is my family here; these are my people. 
 
"I couldn't picture myself anywhere else. My coaches, especially Larissa, (assistant coach) Jennifer (Green), (former assistant) Caleb (Phillips), and (assistant) Vince Smurro helped me confidence-wise and to believe in myself that I am enough to do whatever I set my mind to."
 
Drenth joined the Hawkeyes for the spring semester in January 2014 as a timid freshman. She was in Iowa's lineup from the start and competed in all 12 meets.  She earned a spot at NCAA Regionals as an event specialist on the floor, posting a 9.800.
 
"Once she got here, she was intimidated, maybe felt like it wasn't her school," said Libby. "She did well her first year, but not fabulous, but by her second and third year, she allowed herself to be molded and to breakdown some of the walls she had created.  She allowed her teammates to help guide her.
 
"She got to do what she wanted to do and be who she wanted to be. She got to love gymnastics again."
 
"It was a great honor to be an All-American, but that was last year and you can't focus on the past. It's this year now. I am focusing on living in the moment and taking every second in. Last year, I proved to myself that I could do it. Moving into this year, knowing I made it last year, I am trying to keep that same confidence with me and bring it in each competition every time we go out on the floor." — Mollie Drenth
Drenth took a step forward as a sophomore, placing ninth on bars at the Big Ten Championships and qualifying for a second straight NCAA Regionals. In 2016, it all fell into place.
 
"Everything in gymnastics was coming together," said Drenth. "Mentally, I believed in myself that I could do it."
 
Drenth competed in every meet in the all-around as a junior, including tying for second on the vault at the Big Ten Championships.  At the NCAA Regionals in Iowa City, Drenth tied for first on the beam with a 9.900 and finished third in the all-around.  She earned a spot at the NCAA Championships, becoming Iowa's first gymnast to advance to the national meet since 2011.
 
At the NCAA Championships, Drenth performed in the spotlight with an unlikely support group in attendance. In April, in the midst of the spring semester, all of Drenth's teammates made the drive to Fort Worth, Texas, to show support.
 
"That shows how committed Molly is, she never puts herself first," said Libby. "Our whole team drove to Texas to watch her compete. That was not directed; that's rare and we were blessed enough to be a part of it."
 
Drenth finished third on the beam at the NCAA Championships with a 9.9125. She became the fourth gymnast in program history — the first since 2004 — to garner All-America honors.
 
"I can't put into words how it made me feel (to have my teammates there)," said Drenth. "Before every meet we gather in the tunnel to sing our fight song as we walk out. When I came down the elevator, the whole team was standing there and started cheering the fight song. It put me in tears.
 
"Being in the moment, seeing them all there and seeing their emotion with my emotion, it was indescribable."
 
Drenth is using her NCAA experience to her benefit heading into her final season as a Hawkeye, but she is putting it in the back of her mind.  She says there is pressure as a returning All-American — Iowa's first since Alexis Maday — but she is trying to stay in the present.
 
"It was a great honor to be an All-American, but that was last year and you can't focus on the past," said Drenth. "It's this year now. I am focusing on living in the moment and taking every second in. 
 
"Last year, I proved to myself that I could do it. Moving into this year, knowing I made it last year, I am trying to keep that same confidence with me and bring it in each competition every time we go out on the floor."
 
Libby hopes Drenth can relax, have fun, leave her legacy, and make sure the program's culture — which she was an integral part of creating — continues. 
 
"My main goal is to figure out how to get Mollie to relax and enjoy the journey," said Libby. "She puts a lot of pressure on herself to be something she doesn't need to be.  I want her to believe she is great, at the end of this experience to value who she is and what she has brought to our team, not athletically.
 
"She is completely different than she was when she got here.  She wouldn't talk, wouldn't do interviews, and was scared to be in the community. Now she is one of our fan favorites, is electric, and people are drawn to her. That's because she's happy."
 
Drenth is happy because she is where she belongs.  She's a Hawkeye.
 
"We talk about it now and (the other school) did her a favor, it was a blessing in disguise," said Libby. "I am not sure (that school) was the best fit for her knowing who she is now. I am not sure she would have grown to be the person she is now. She still would have been an amazing athlete, but I am not sure she would have gotten this far."