Hawkeye Fan Shop — A Black & Gold Store | 24 Hawkeyes to Watch 2016-17 | Hawk Talk Monthly — Jan. 2017
By DARREN MILLER
hawkeyesports.com
IOWA CITY, Iowa — The University of Iowa women's basketball team took a detour through Agrabah before taking on red-hot-at-home Rutgers on Tuesday.
 
The Hawkeyes (11-7 overall, 2-3 Big Ten) attended the Broadway musical Aladdin at the New Amsterdam Theatre on 42nd Street in New York City before heading to a hotel in New Brunswick, New Jersey to focus on Rutgers. The Scarlet Knights are 3-0 at home in the Big Ten.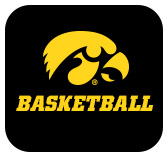 "One of the most enjoyable things I get to do as a coach is to take young women to places they have never been before, whether that's on the court or off the court," Iowa head coach Lisa Bluder said Monday during a teleconference. "To be able to take them to New York City to a Broadway show for the first time is a real treat for me."
 
Iowa knows it has its hands full against Rutgers (6-13, 3-3), a team that has defeated Penn State, Wisconsin, and Michigan State at the Rutgers Athletic Center (RAC).
 
"Rutgers is a team that plays much, much better at home than they do on the road," Bluder said. "They have turned things around since Big Ten play has started. We know we have a battle again Tuesday night."
 
The Hawkeyes have won three in a row against Rutgers, including a 79-72 victory at the RAC in 2015 and 69-65 win at home last season. The Scarlet Knights are coached by C. Vivian Stringer who won 269 games as head coach at Iowa from 1983-95.
 
Rutgers has scored 60 points or more just four times this season, but the Scarlet Knights have totaled 61, 68, and 62 points in three of their last five games…and won all three.
 
"They slow it down until the last five minutes of the game and then if they have the energy, then they go at that point," Bluder said. "They are using a lot of their effort on defense."
 
Rutgers holds opponents to 59.3 points per game.
 
Bluder expects up to nine Scarlet Knights to see the floor with eight earning significant minutes.
 
The Hawkeyes are coming off a 98-82 loss to No. 3 Maryland on Jan. 14. Sophomore point guard Tania Davis scored 25 points in 35 minutes, making 4-of-8 3-point field goals. She scored 29 points in the previous five games combined.
 
"I said to Tania the next day, 'Hey, my point guard has her mojo back, I like to see it,'" Bluder said. "She said, 'I do too.' She needed a breakout game like that again and now we have to keep it rolling."
 
More Hawkeyes have played at Rutgers (Ally Disterhoft, Alexa Kastanek, Christina Buttenham, Chase Coley) than have been to New York City before Sunday. Bluder isn't underestimating the team bonding that took place in the Big Apple.
 
"Our team gets along really well so it makes it more enjoyable to do things like this," Bluder said. "When you have experiences off the floor, I think that helps you bond. It helps you grow together — have fun and relax together and enjoy each other's company makes you want to play for each other even more. There is a competitive advantage as well."
 
Iowa and Rutgers are scheduled for a 6 p.m. (CT) tip Tuesday. The game will be televised by BTN Plus.