Hawkeye Fan Shop — A Black & Gold Store | 24 Hawkeyes to Watch 2016-17 | Hawk Talk Monthly — Jan. 2017 | WMU Box Score (PDF) | Creighton Box Score (PDF)
IOWA CITY, Iowa — The University of Iowa men's tennis team opened its spring schedule with victories over both Western Michigan and Creighton Saturday inside the Hawkeye Tennis and Recreation Center.
The Hawkeyes began the day with a 5-2 win over Western Michigan.
Iowa grabbed the doubles point with victories by the score of 6-4 on both courts one and three.
In singles, redshirt freshman, Kareem Allaf posted his first spring season victory with a straight set win over Jannik Opitz, 6-1, 6-3.
Junior Jake Jacoby and sophomore Jonas Larsen also notched straight set wins, defeating their opponents, 6-1, 6-1, and 7-6(5), 6-4, respectively.
Lefteris Theodorou, another junior on the Hawkeye squad, took his match on court one to a third-set win over Kennosuke Nouchi.
Iowa blanked Creighton, 7-0, in the nightcap. The Hawkeyes swept all three doubles matches via 6-1 scores.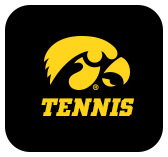 Theodorou finished in two sets in his second match of the day. The Athens, Greece native defeated Harrison Lang, 6-4, 6-3.
Allaf quickly followed with a 6-2, 6-3 victory over Creighton's Aaron Chalstrom.
Senior Robin Haden registered his first singles victory of the season, dropping Brooks Kendall, 7-5, 6-2.
Larsen and Jacoby also recorded straight set victories at No. 5 and No. 6 singles, respectively.
Iowa is back in action Saturday, Jan. 28, against Texas Tech at the ITA Kick Off in Lubbock, Texas.
IOWA 5, WESTERN MICHIGAN 2
Singles
1. Lefteris Theodoru (UI) def. Kennosuke Nouchi (WMU): 5-7, 6-4, 6-3
2. Maik Steiner (WMU) def. Josh Silverstein (UI): 6-0, 6-4
3. Matt Hamilton (WMU): def. Robin Haden (UI): 3-6, 6-3, 6-2
4. Kareem Allaf (UI) def. Jannik Opitz (WMU): 6-1, 6-3
5. Jonas Larsen (UI) def. Matej Svjetlicic (WMU): 7-6(5), 6-4
6. Jake Jacoby (UI) def. Daniel Loebel (WMU): 6-1, 6-1
Order of finish: 6,4,2,5,3,1
Doubles
1.      Theodorou/Silverstein (UI) def. Opitz/Steiner (WMU): 6-4
2.      Nouchi/Loebel (WMU) def. Larsen/Allaf (UI): 6-4
3.      Jacoby/Haden (UI) def. Heckman/Schnobel (WMU): 6-4
Order of finish: 1,2,3
IOWA 7, CREIGHTON 0
Singles
1.      Josh Silverstein (UI) def. Harrison Lang (CU): 6-4, 6-3
2.      Lefteris Theodoru (UI) def. Armando Gandini (CU): 6-4, 6-3
3.      Kareem Allaf (UI) def. Aaron Chalstrom (CU): 6-2, 6-3
4.      Robin Haden (UI) def. Brooks Kendall (CU): 7-5, 6-2
5.      Jonas Larsen (UI) def. Jake Glazer (CU): 6-4, 6-1
6.      Jake Jacoby (UI) def. Daniel Lopez-Rey (CU): 6-3, 6-3
Order of Finish: 2,3,4,1
Doubles
1.      Theodorou/Silverstein (UI) def. Lang/Kendall (CU): 6-1
2.      Larsen/Allaf (UI) def. Chalstrom/Gandini (CU): 6-1
3.      Jacoby/Haden (UI) def. Koch/Mease (CU): 6-1
Order of Finish: 1,3,2