Hawkeye Fan Shop — A Black & Gold Store | 24 Hawkeyes to Watch 2016-17 | Hawk Talk Monthly — Jan. 2017 | Notes- Maryland
IOWA CITY, Iowa – The No. 22 University of Iowa women's gymnastics team hosts Big Ten foe Maryland on Sunday inside Carver-Hawkeye Arena at 2:00 p.m. (CT).
 
"I want to see if the team can back up their win from last week," said UI head coach Larissa Libby. "They are so capable. I know that mentally and emotionally, they will be in the right state of mind to compete. I want to see if they're going to put the pedal to the metal and disregard every team we're competing against, within reason, and do what they know how to do."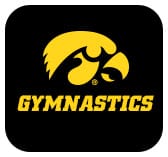 Iowa returns to competition after their second Big Ten win of the season against No. 20 Ohio State last Saturday. The Hawkeyes defeated the Buckeyes, 196.175-195.525. The win helped the GymHawks to move up two spots to be rank third in the conference. They remained steady in the national rankings at No. 22.
 
The competition was highlighted with five event titles, fifteen individual season bests, and four team highs. Senior Mollie Drenth won the titles on beam (9.925) and in the all-around (39.350). Freshman Clair Kaji won on floor with a season best 9.900. Her efforts earned her Big Ten Freshman of the Week recognition. Junior Melissa Zurawski took the title on uneven bars with score of a 9.875, while freshman Charlotte Sullivan took first overall on vault with score of 9.800.
 
While the GymHawks enjoyed their win on the road, they are ready to return home to Carver-Hawkeye Arena to compete this weekend.
 
"Our fans make us who we are and it's really hard to go on the road without them," said Libby. "It's so great to come home to the people that know you, who understand what you've been through, and appreciate and value your gymnastics. The fans have gotten to a point now where they know our routines, so they become engaged and involved in it. I miss that on the road."
 
Maryland comes to Iowa with a 1-4 season record thus far. The Terrapins opened their season with a loss to West Virginia (194.400-193.950) on Jan. 8. They went on host their Maryland Quad Meet, where they defeated AK Anchorage and fell to Arizona and Minnesota on Jan. 14. Maryland was defeated by Penn State, 195.525-194.725, on the road last Saturday. They are now ranked 42nd in the nation and last in the Big Ten Conference.
 
Sunday is Kid's Day and Little Gymnast Day. Prior to the meet, there will be Hot Dog Happy Hour, where fans can purchase hot dogs for only one dollar. The Kids Zone will also be available for young Hawkeyes and will include tattoos, trivia, questions, and building snowflakes.
 
Fans can follow the GymHawks as they take on Maryland on Sunday through live stats on hawkeyesports.com or by following @IowaGymnastics on Twitter and Instagram or on Facebook at facebook.com/iowagymnastics.