Hawkeye Fan Shop — A Black & Gold Store | 24 Hawkeyes to Watch 2016-17 | Hawk Talk Monthly — January
Editor's note: 24 Hawkeyes to Watch is a feature released Monday, Aug. 1, highlighting one athlete from each of the 24 intercollegiate sports offered by the University of Iowa. More than 700 talented student-athletes are currently busy preparing for the 2016-17 athletics year at the UI. Hawkeyesports.com will introduce you to 24 Hawkeyes who, for one reason or another, are poised to play a prominent role in the intercollegiate athletics program at the UI in the coming year.
By JAMES ALLAN
hawkeyesports.com
IOWA CITY, Iowa — It didn't take Dylan Ellsworth long to find a home at the University of Iowa.
 
Ellsworth, a junior men's gymnast from Farmington, Utah, was in Iowa City on his second recruiting visit when something struck a chord. He didn't waste time calling Iowa head coach JD Reive to commit.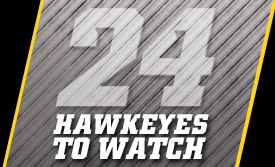 "He went off to the airport (to go home) and he called me back and told me he was coming to Iowa," said Reive. "We immediately had a good connection with him and his family and it was a comfortable acquisition for the team."
 
Ellsworth was an active child, participating in gymnastics and taekwondo beginning at age 6. He liked the discipline both offered, but he gravitated toward gymnastics. Ellsworth followed his two older brothers, Tyler and Jeremy, into the sport and he progressed quickly.
 
"I knew I wanted to be a Division I athlete," said Ellsworth. "I competed with my older brothers and, not to sound mean, but I progressed a lot quicker than they did. That helped me realize this is my niche and I should keep going with it."
 
At Viewmont High School, Ellsworth was a three-time all-around state champion and a two-time P&G Championship qualifier. He qualified for the Visa Cup in 2011 and was a six-time Junior Olympic qualifier. His club coach was Wanda Fredericks, who also coached Olympian Jacob Dalton.
 
If a gymnast is out there, Reive will find them, even if they reside off the beaten path in Utah.
 
"Our sport is small," said Reive. "It's national and international, but you tend to know which gyms are producing the best athletes. His coach has done a great job over the years of kids coming up and going into collegiate programs. I had my eye on Dylan, and it was a great match."
 
Ellworth arrived at the University of Iowa as a scared freshman, but that didn't stop him from contributing immediately. He competed in nine events in 2015 and was part of the Hawkeye squad that advanced to the second day at the NCAA Championships.
 
"That had a huge impact on me," said Ellsworth. "That helped me evolve and see other teams and find out how well we need to do to keep going in this sport."
 
By the time his sophomore year rolled around, Ellsworth was more confident. He set career-highs in every event and placed fifth overall on vault and 10th on parallel bars on the first day at the NCAA Championships. His 15.200 effort on vault was the second-best of his collegiate career and qualified him for the second day at the championships.
 
"I remember being very scared, it was awesome though," he said. "When you're in those situations where you have nothing to lose — you've made it to the farthest level you can go — then you have to get out there and do the best you can."
 
Ellsworth tied for 18th on parallel bars and 26th on vault during the second day at NCAAs, but it served as a motivator moving forward.
 
"Being at that level where you're competing against the best in the NCAA makes you want to do better on every event," said Ellsworth. "You don't just want to be involved, but you want to be in the all-around, be in three or four events, and make it to the second day.
 
"As a freshman, I was so nervous. Going into NCAAs, I was terrified, but I think after having these experiences the last two years, I'll be more ready and able to compete."
 
Reive says Ellsworth has matured mentally and physically since arriving on campus.
 
"Over the last couple of years he has consistently progressed and is starting to come into his potential," said Reive. "He has matured and he went from being that scared freshman, like everyone is, to now starting to blossom.
 
"Blossoming isn't just the physical component, being a leader and starting to move into that position where he can be a team captain next year and being a leader on the floor. To see him stepping up into that position and taking responsibility and acknowledging it is challenging, but he's doing a good job at it."
 
Ellsworth is focusing on leading the Hawkeyes in the nonconference portion of the schedule because he believes it can serve as a catalyst for the championship meets down the road.
 
"I want to make sure we push ourselves and do well in the preseason so that when we are going into the Big Tens and NCAAs, we aren't nervous," said Ellsworth. "We want to make sure we feel like making second day isn't going to be a challenge, we want to know we're going to make it."
 
Ellsworth has his sights on advancing to day two in the all-around at both the Big Ten and NCAA Championships. Reive believes Ellsworth can be an All-American in all-around.
 
"That's something he has the potential to do," said Reive. "It's going to take a lot of work and discipline on his part and we talk about that daily. His vault has been in the finals at postseason events and he can do that again.
 
"The bigger component would be to lead the team to that second day of NCAAs where we are in the team finals. After that, the sky is the limit for what he is going to be able to do."
 
The Hawkeyes return to action Feb. 6, traveling to Berkeley, California, for a meeting against California.  Iowa returns to Carver-Hawkeye Arena on Feb. 10, hosting Oklahoma and Minnesota at 7 p.m. (CT).