Hawkeye Fan Shop — A Black & Gold Store | 24 Hawkeyes to Watch 2016-17 | Hawk Talk Monthly — Jan. 2017 | 2016-17 Women's Basketball Media Guide | Hawk Talk with Lisa Bluder
By DARREN MILLER
hawkeyesports.com
IOWA CITY, Iowa — After an effective week of scrimmaging and conditioning, the University of Iowa women's basketball team returns to the court against league-leading and No. 3 ranked Maryland on Sunday with a 1 p.m. (CT) tip from the XFINITY Center in College Park, Maryland.
 
The Hawkeyes (13-7 overall, 4-3 Big Ten) have won two in a row and three of their last four. Maryland (20-1, 8-0) is coming off a 94-49 victory at Illinois on Thursday.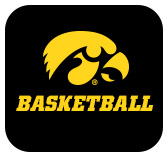 It is a rematch of a Jan. 14 game that Maryland won, 98-81, on Mediacom Court. Iowa led 47-43 at halftime.
 
"We have a tough task ahead of us," Iowa head coach Lisa Bluder said Friday during a teleconference. "Maryland is playing extremely well but it gives us a little confidence that we were up on them at halftime at our place. Our team feels good about itself right now. We know it's a long shot, but we just want to get better for the next opponent."
 
The Hawkeyes lead the Big Ten in field goal defense (37.0 percent) and 3-point field goal defense (28.8), while Maryland is tops in field goal percentage, making more than half of its attempts (50.5). In the first meeting, the Terrapins made 37-of-72 field goals (51.4).
 
"Maryland is shooting 50 percent from the field which is an amazing number," Bluder said. "They do a great job from 3-point range as well (34.5 percent). This team is tough to defend."
 
Last season Iowa's opponents shot 42.1 percent from the field. Bluder says the nearly 8 percent improvement has a lot to do with personnel.
 
"Kathleen (Doyle) brings a defensive spunk to our team and that raises the bar for everybody else," Bluder said. "Tania (Davis) has that capability. Megan (Gustafson) is an improved post defender from last year and we have people coming off the bench that understand that's their role to defend, so they are really working at it. It is more of a personnel thing than a technique thing."
 
Bluder wants the Hawkeyes continue to improve their outside shooting, valuing the ball, and boxing out.
 
They did a good job from distance in the first meeting with the Terrapins, making eight 3-point field goals and six in the first half. For the season, Iowa is shooting 31.9 percent from 3-point range and averages six 3-point field goals per game.
 
Maryland pulled down 20 offensive rebounds in Carver-Hawkeye Arena, six by center Brionna Jones. Jones scored 25 points with 10 rebounds on Jan. 14.
 
The Hawkeyes will practice Saturday morning and fly to Maryland late in the afternoon.  
 
"A win over Maryland is something we need because of a top 25 win, winning on the road, and giving them their first loss," Bluder said. "It would be a very significant win for us."
 
Still, Bluder does not want Sunday's events to be solely result-driven.
 
"I want to come out of there knowing we got better," Bluder said. "Did we play (Maryland) better this time than we did the last time? Are we ready for Rutgers on Thursday (Feb. 2)? At this point that's what we have to concern ourselves with. Certainly, we would love to win, don't get me wrong, that would be huge for us."
 
Sunday's contest will air live on ESPN2 and will also be available on WatchESPN. Rob Brooks and Jamie Cavey Lang will have the call on the Hawkeye Radio Network.