Hawkeye Fan Shop — A Black & Gold Store | 24 Hawkeyes to Watch 2016-17 | Hawk Talk Monthly — Feb. 2017 | 2017 Football Season Tickets | KinnickEdge.org | A VIDEO — A Look Toward the 2017 Season | Signing Day Central | Swarm17 Signing Day Show | Signing Day Extra: Reese Morgan | Signing Day Flashback: Nathan Stanley | Ferentz Transcript in PDF Format
By DARREN MILLER
hawkeyesports.com
IOWA CITY, Iowa — Head coach Kirk Ferentz met with media Wednesday afternoon, saying the University of Iowa football team addressed its recruiting needs with close to perfect distribution.
 
The 22-man recruiting class of 2017, that will swarm onto campus this summer, includes five defensive backs, four wide receivers, three defensive linemen, three offensive linemen, two running backs, a linebacker, punter, quarterback, tight end, and Trey Creamer, a running back/defensive back from Georgia billed as an "athlete."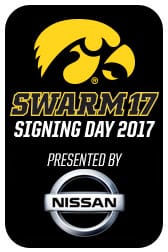 "Twenty-two was the number we were shooting for," Ferentz said. "I won't say the distribution is perfect, but it was close. I think we did well on those projections and a lot took place in the last two-plus weeks. That's typical for us. We're not going to get an entire class committed in December. I don't think that's realistic if we want the best guys to come into our program."
Ferentz said the entire roster of new Hawkeyes is not only loaded with quality, but all 22 embrace the program's core values of work ethic, passion for the game, competitiveness, mental toughness, being selfless, and having a desire to improve.
 
"Someday they're all going to be leaders of our program and leaders of our team," Ferentz said.
 
Iowa signed student-athletes from 10 states, with six coming from Iowa. The homegrown talent consists of tight end Jacob Coons (Solon), defensive end Levi Duwa (Mid-Prairie), offensive lineman Mark Kallenberger (Bettendorf), offensive lineman Coy Kirkpatrick (Madrid), linebacker Nate Wieland (Iowa City), and offensive lineman Tristan Wirfs (Mount Vernon).
 
"We want to get the best guys in the state, that's always by design," Ferentz said. "Sometimes they're going to be close, sometimes they may be in the far west."
 
Four future Hawkeyes are from Illinois (defensive lineman A.J. Epenesa, defensive back Camron Harrell, running back Ivory Kelly-Martin, wide receiver Henry Marchese) and three are from Wisconsin (wide receiver Max Cooper, punter Ryan Gersonde, defensive lineman Daviyon Nixon).  Iowa also received commitments from student-athletes from Florida (running back Kyshaun Bryan and defensive back Josh Turner), Texas (defensive back Matt Hankins and quarterback Peyton Mansell), Georgia (Creamer), Kansas (defensive back Djimon Colbert), Mississippi (wide receiver Brandon Smith), New Jersey (wide receiver Ihmir Smith-Marsette), and Pennsylvania (defensive back Geno Stone).
 
Ferentz said that in a perfect world, the program will hire replacements for assistant coaches Bobby Kennedy and Chris White soon.
 
"In the next two or three weeks I would like to get everybody in their seats," Ferentz said. "It's important that the coaches get here and start learning, most importantly getting to know the players they're going to work with."
 
Since the Hawkeye staff was short-handed over the last month, director of recruiting Tyler Barnes and director of player personnel Scott Southmayd hit the trail under the leadership of recruiting coordinator Kelvin Bell.
 
"We went to the bullpen and Tyler Barnes and Scott Southmayd did a great job filling in where we were short," Ferentz said. "And I certainly want to commend the leadership of Kelvin Bell."
 
Spring practice for the Hawkeyes will tentatively begin March 22. The annual practice in Des Moines, Iowa, is set for April 7, and the final practice of the spring will be Friday, April 21, under the lights of Kinnick Stadium.