Hawkeye Fan Shop — A Black & Gold Store | 24 Hawkeyes to Watch 2016-17 | Hawk Talk Monthly — Feb. 2017 | 2017 Football Season Tickets | KinnickEdge.org | A VIDEO — A Look Toward the 2017 Season | Signing Day Central | Swarm17 Signing Day Show | Signing Day Extra: Reese Morgan
Editor's Note: The following first appeared in the University of Iowa's Hawk Talk Daily, an e-newsletter that offers a daily look at the Iowa Hawkeyes, delivered free each morning to thousands of fans of the Hawkeyes worldwide. To receive daily news from the Iowa Hawkeyes, sign up HERE.
By DARREN MILLER
hawkeyesports.com
IOWA CITY, Iowa — At the age of 17, after his junior football season at Menomonie (Wisconsin) High School, Nathan Stanley made one the biggest decisions of his life: He would accept a scholarship to the University of Iowa.
 
And no matter how hard other schools tried — and they were relentless — Stanley stayed true to his word. In his first season with the Hawkeye program, the 6-foot-5, 212-pound quarterback played in seven games, completing 5-of-9 passes for 62 yards.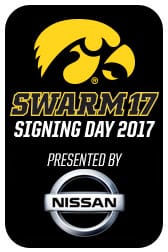 For Stanley, committing to Iowa was an easy choice. His mother's family lives two hours from Kinnick Stadium, he was captivated by the humble, down-to-earth approach of the Hawkeye coaching staff, Iowa's Pro-Style offense is a great fit for his skill set, and the physical therapy school at the University of Iowa is one of the best.
 
Perhaps the biggest influence for Stanley was Iowa's academic reputation.
 
"My family stressed academics growing up," Stanley said. "My dad (Jay) is a (high school physics) teacher, so he knows what it takes to be successful in the classroom and he instilled that in me at a young age."
 
The lead recruiter on Stanley was Seth Wallace, who received an assist from offensive coordinator/quarterbacks coach Greg Davis. Davis invited Stanley to a summer camp and the recruit was blown away by Iowa's facilities and coaching staff.
 
Stanley quarterbacked Menomonie to the state playoffs three times, advancing to the quarterfinals as a senior when he was named honorable mention all-state. Stanley holds Mustang records for career passing yards (3,674) and passing touchdowns (36).
 
During his senior season, Stanley threw for 1,728 yards and 16 touchdowns and ran for three more scores. Despite being committed to Iowa, other schools had difficulty accepting his decsion.
 
"It got a little overbearing and tiresome when other coaches and schools were contacting me once I made up my mind," Stanley said.
"My family stressed academics growing up. My dad (Jay) is a (high school physics) teacher, so he knows what it takes to be successful in the classroom and he instilled that in me at a young age." — Nathan Stanley
 
Stanley listened to his high school coach Joe LaBuda, who had groomed many players for the next level. He remained grounded and, more importantly, he remained a Hawkeye in the days leading up to Signing Day on Feb. 3, 2016. Stanley was one of 24 recruits signed by Iowa last season.
 
"We think (Stanley) has all the attributes of a good quarterback," Iowa head coach Kirk Ferentz said last February. "He's a good athlete who has a real command and presence about him in a quiet way — kind of like C.J. Beathard or Brad Banks — not necessarily a boisterous guy, but a guy that players rally around and gravitate to.
 
"He has all the physical attributes that you look for and on top of that, all the characteristics you like to see a guy embody."
 
While Stanley stayed true to his word when he verbally committed, the Hawkeye staff stayed true to its word, too, giving the true freshman an opportunity to play immediately. Midway through fall camp, Stanley was elevated to backup quarterback behind Beathard. He saw action in the season-opener against Miami (Ohio), the Outback Bowl on Jan. 2, and five games in between.
 
"Once I came in and saw the offense I didn't think I would be able to grasp it right away and have a shot to play," Stanley said. "But with coach Davis and all the other quarterbacks helping me, that's when I realized I would have a shot to be the backup.
 
"There is a lot to know and learning every day is my main goal. Learning all the ins-and-outs of everything, the schemes. There is still a lot for me to learn."
 
If anyone can pick things up quickly, it is Stanley. His first academic semester at Iowa resulted in a grade-point average above 3.9 (on a 4.0 scale). He will compete for the starting quarterback job when spring drills begin in March.
 
Signing Day for National Letters of Intent for football has arrived. To find out more about Iowa's Swarm17 Signing Day Show, click HERE.