24 Hawkeyes to Watch 2016-17 | Hawk Talk Monthly — Feb. 2017 | 2017 Football Season Tickets | KinnickEdge
IOWA CITY, Iowa — Ken O'Keefe, who served as offensive coordinator and quarterbacks coach at the University of Iowa from 1999-2011, has been named quarterbacks coach for the Hawkeye football program.  Iowa head coach Kirk Ferentz made the announcement Friday.
 
"We are pleased to have Ken rejoin our coaching staff in this position," said Ferentz.  "Ken is an excellent teacher who brings a wealth of college and NFL coaching experience to our staff.  During Ken's years in our program, the individual growth and overall performance of our quarterbacks played a major role in the success of our football team.  Ken is a key addition to our staff moving forward. He is an outstanding person and a perfect fit to our staff."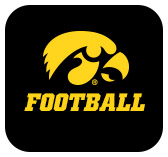 "I am excited to return to Iowa as quarterbacks coach," said O'Keefe.  "I look forward to working with Kirk Ferentz again, and the entire coaching staff.  I gained valuable experience in Miami the last five years, but at the same time I am anxious to return to coaching and working with college players, and being back on campus at the University of Iowa."  
 
Iowa was bowl eligible in the final 11 seasons O'Keefe was on staff, ranking in the top 10 in the final national rankings on four occasions.  The Hawkeyes won Big Ten titles in 2002 and 2004 and placed second in 2009.  Twenty Hawkeye offensive players under O'Keefe were selected in the NFL Draft.  Four of the top seasons in Iowa history, for average passing yards per game, occurred under O'Keefe's direction.
 
O'Keefe has tutored some of the top performing quarterbacks in Iowa history, including Kyle McCann, Brad Banks, Nathan Chandler, Drew Tate, Ricky Stanzi, and James Vandenberg.  That group owns five of the top 10 single-season passing performances in school history.  Tate (second), Stanzi (third), Vandenberg (seventh), McCann (ninth) and Banks (12th) rank among Iowa's career passing leaders.
 
As a senior in 2001, McCann led the Hawkeyes to their first bowl game under Ferentz, a win over Texas Tech in the Alamo Bowl.  McCann ranked second in the Big Ten in pass efficiency in 2001 while passing for over 2,000 yards in his only season as a starter.
 
The following season, senior Brad Banks led the Hawkeyes to a share of the Big Ten title.  Banks placed second in Heisman Trophy balloting, while winning the Davey O'Brien Award as the top quarterback in the nation.  He was the Associated Press Player of the Year and was named Most Valuable Player in the Big Ten Conference after leading the nation in pass efficiency.
 
Nathan Chandler took over for Banks in 2003 and promptly guided the Hawkeyes to a 10-3 overall record, including a win over Florida in the 2004 Outback Bowl.  Chandler passed for over 2,000 yards in his only season as a starter.
 
Drew Tate burst on the scene as a sophomore in 2004, leading Iowa to a share of the Big Ten title.  He earned first team All-Big Ten honors while passing for over 2,700 yards and 20 touchdowns.  Tate ranks second in career passing, touchdown passes, completions, attempts and total offense.  He also completed a 56-yard scoring strike on the last play of the game to lead Iowa to a win over LSU in the 2005 Capital One Bowl.
 
Stanzi set Iowa's school record for passing efficiency (157.6) in 2010, passing for over 3,000 yards and 25 touchdowns, with just six interceptions. He passed for over 2,400 yards in his first full season as a starter in 2009, leading Iowa to a second place finish in the Big Ten and to an Orange Bowl win over Georgia Tech.
 
In O'Keefe's final season at Iowa, he worked with Vandenberg, who was in his first year as a starter.  Vandenberg passed for 3,083 yards and 28 touchdowns, with both totals ranking third-best for a single season in school history.
 
O'Keefe has been a member of the Miami Dolphins staff for the past five seasons, most recently serving as senior football research analyst.  He was named Miami's wide receivers coach in February, 2012, and served in that role prior to being named senior offensive assistant in 2015.
 
Under O'Keefe, wide receiver Jarvis Landry set the Miami's rookie record with 84 receptions in 2014, the fourth-most by any player in a single season in team history. Landry surpassed that mark with 110 receptions in 2015 and caught more passes (194) than any other player in league history during the first two seasons of their career.
 
Wide receiver Brian Hartline had the two best seasons of his seven-year career under O'Keefe. Hartline totaled 74 receptions for 1,083 yards in 2012, and added 76 receptions for 1,016 yards and a career-high four touchdowns in 2013.
 
O'Keefe was the head coach at Fordham University in 1998. He served as head coach at Allegheny College for eight seasons (1990-97). His career head coaching record of 83-17-1 included a 79-10-1 mark at Allegheny, where his team won five North Coast Athletic Conference titles and the 1990 NCAA Division III national title. O'Keefe led Allegheny to four undefeated regular seasons (1990, 1991, 1994 and 1996), and six NCAA playoff appearances. He was named NCAA Division III Coach of the Year in 1990.
 
In 1985, O'Keefe coached Fort Worth (Texas) Country Day School. From 1978-84, he led Worcester (Mass.) Academy to a 37-11 record and three New England Class A prep championships. O'Keefe started his coaching career as an assistant coach at the University of New Haven from 1976-77.
 
O'Keefe earned his B.A. degree in history from John Carroll University in 1975, where he played football and baseball.  He was a three-year starter at wide receiver while at John Carroll.
 
The Hawkeyes open the 2017 season Sept. 2, hosting Wyoming in Kinnick Stadium.