Hawkeye Fan Shop — A Black & Gold Store | 24 Hawkeyes to Watch 2016-17 | Hawk Talk Monthly — Feb. 2017 | Final Results
WASHINGTON, D.C. – The No. 22 University of Iowa women's gymnastics team placed first with a total score of 196.400 at George Washington University in a field of five teams on Friday evening.  
 
No. 20 George Washington took second overall with a score of 196.050, while Maryland followed in third with a 195.275. Pittsburgh registered a 194.725 to finish fourth, and William & Mary rounded out the competition with a 192.725.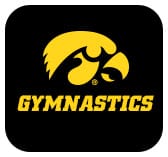 "I am so proud of our team," said UI head coach Larissa Libby. "After a rough week of practice, I thought they did an excellent job focusing on the task at hand. This is the time of year when pacing is everything."
 
Seven GymHawks recorded a total of nine top 5 finishes and earned three event titles to highlight the competition. Seven GymHawks also registered season highs.
 
Senior Mollie Drenth won the all-around with a score of 39.300.
 
The Hawkeyes registered their highest score of the night on beam with a score of 49.225. Drenth won the event with a career-high 9.950, and senior Angel Metcalf finished third overall with a score of 9.875. Freshman Charlotte Sullivan, senior Lexi Mura, and freshman Clair Kaji followed with scores of 9.800.
 
Iowa recorded a season-high 49.150 on floor. Drenth and junior Lanie Snyder both tied their season highs with scores of 9.850 to finish tied for third. Metcalf and Kaji followed with scores of 9.825.
 
The Hawkeyes recorded a score of 49.150 on uneven bars. Sullivan tied for first with a season-high 9.900, while Drenth and junior Melissa Zurawski tied for sixth overall with scores of 9.850.
 
Iowa finished the night on vault with a 48.875. Sophomores Misty-Jade Carlson, Rose Piorkowski, and Maria Ortiz led the Hawkeyes tied for fourth overall in the event with scores of 9.800. This marked a season high for both Carlson and Ortiz.
 
"It is very important for us to have a short memory right now," said Libby. "While this was an outstanding night for us, we need to let this go and focus on the next one."
 
The GymHawks return to action on Sunday in Baton Rouge, Louisiana, against No. 2 LSU and No. 20 George Washington at 2:30 p.m. (CT).