Hawkeye Fan Shop — A Black & Gold Store | 24 Hawkeyes to Watch 2016-17 | Hawk Talk Monthly — Feb. 2017 | Notes – BYU
PROVO, Utah — The No. 17 University of Iowa women's gymnastics team travels to Provo, Utah to face BYU on Friday at 8 p.m. (CT) inside the Smith Fieldhouse.
"I'm looking for our team to get back on track this weekend," said UI head coach Larissa Libby." A double weekend, like we had last week, is really hard. I'm looking for the team to do what they do best, as we compete. I'm a big believer in that the more you compete, the better you get at it, because it becomes monotonous. I think that the level of trust that continues to build within the different lineups will make a big difference as well, as we head into postseason."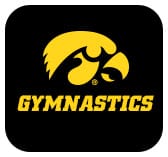 Iowa enters the eighth week of competition season ranked No. 17 nationally, up five spots from No. 22 last week, with a regional qualifying score (RQS) of 195.950. The Hawkeyes have an overall record of 10-5 and a conference record of 4-1, which ties for first in the Big Ten. As a team, the GymHawks rank nationally in all four events. They are ranked 15th nationally on bars (49.050 RQS), 16th on floor (49.035), 18th on beam (49.010), and 21st on vault (48.910).
 
The Hawkeyes are coming off of a two-meet weekend. Last Friday, they took first in the George Washington Pink Meet with a score of 196.050. Iowa scored a season-high 49.150 on floor. Senior Mollie Drenth won the all-around with a 39.300 and took first on beam with a career-high 9.950, while freshman Charlotte Sullivan finished at the top of the podium on uneven bars with a season-high 9.900.
 
On Sunday, Iowa took third in a road meet against No. 2 LSU and No. 20 George Washington with score of 194.200.  Drenth earned the runner-up title in the all-around with a total of 39.175.
 
BYU is ranked No. 34 nationally with a 194.580 RQS and a 3-7 overall record. The team fell to No. 13 Southern Utah, 194.825-194.450, at home last Friday. They are ranked No. 16 nationally on uneven bars with an RQS of 48.940. Freshman Shannon Hortman leads the team in the all-around at No. 46 with an RQS of 38.825. She also leads the team on floor with an RQS of 9.790 and a season-high 9.900.
 
Fans can follow the GymHawks on the road as they travel to BYU on Friday through live stats on hawkeyesports.com. Fans can also follow @IowaGymnastics on Twitter and Instagram or on Facebook Live at facebook.com/iowagymnastics. Live streaming of the meet will also be available on byutv.org and will be televised on BYU TV.
 
***Regional Qualifying Scores are based on a team's six best regular-season-meet scores, three of which must be from away meets. To obtain the RQS, the highest score is eliminated and the remaining five scores are averaged.