Hawkeye Fan Shop — A Black & Gold Store | 24 Hawkeyes to Watch 2016-17 | Hawk Talk Monthly — Feb. 2017 | 2016-17 Women's Basketball Media Guide | Big Ten Tournament Bracket | Iowa-Northwestern Box Score (PDF)
By DARREN MILLER
hawkeyesports.com
IOWA CITY, Iowa — It's safe to assume that Northwestern head coach Joe McKeown has the names Ally Disterhoft and Megan Gustafson circled on his scouting report leading up to the Wildcats' rematch with eighth-seeded Iowa in the Big Ten Tournament on Thursday in Indianapolis.
 
He should also highlight the names of emerging freshmen guards Kathleen Doyle and Makenzie Meyer.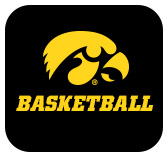 Gustafson averages a double-double on the season with 18 points and 10 rebounds through 29 games. With 2,022 points, Disterhoft is zeroing in on the school's all-time scoring record. But in the last six games, the Hawkeyes (17-12 overall, 8-8 Big Ten) have also relied on Doyle and Meyer who are doing their best to fill the shoes of sophomore point guard Tania Davis, who was lost for the season Feb. 5 with a torn ACL.
 
Since then, Iowa is 3-3 with a perfect score in three games inside Carver-Hawkeye Arena. The road losses were 88-81 to regular season co-champion Ohio State, an 80-77 double overtime setback to Indiana, and a stinker at Purdue, where the Hawkeyes led by 10 at halftime and lost, 72-52.
 
During that span, Meyer is averaging 10.5 points per game and Doyle, a member of the Big Ten All-Freshman team, averages 9.0.
 
"They are doing a great job," Iowa head coach Lisa Bluder said Monday on a teleconference hosted by the Big Ten. "Both those women are freshmen taking over for Tania Davis, who was on the (Big Ten) all-freshman team last year as a point guard. They have done a tremendous job. I am so happy we have both of those young women on our team. I know the future is incredibly bright with the experience they are getting this year."
 
Before the 10th league game at Michigan on Feb. 5, the Hawkeyes were averaging 73.4 points per game. In the last six games, their scoring average has increased by nearly a point per game. The loss of Davis has been felt most in distributing the ball: Iowa's assist average is down by 2.8 per game. The Hawkeyes have also made an average of 0.8 fewer 3-point field goals and have turned the ball over 1.1 more times per game.
 
But Doyle and Meyer continue to develop. During a 78-59 victory over Northwestern on Feb. 16, the duo combined for 18 points, eight assists, seven rebounds, three steals, and just three turnovers. Doyle played a team-high 35 minutes and Meyer logged 34.
 
Of course nothing that happened from the end of December to the end of February matters now that the Big Ten Tournament pairings have been posted. No one knows more about that than Iowa's first opponent, the ninth-seeded Wildcats (19-10, 8-8). At the 2016 Big Ten Tournament, Northwestern rolled into the semifinals with wins over Wisconsin, Minnesota, and Indiana before losing to eventual champion Maryland.
 
"Everybody's goal should be to win it all," Bluder said. "That's what everybody wants to do because that is the automatic bid. Right now we're just focused on Northwestern, that is our next opponent, so that is the most important game on our schedule. We're going to do our best to win that game. You have to win the first one or you don't have a chance to win the second one."
 
Northwestern won two of its final three regular-season games before falling via a last-second shot at Purdue on Feb. 26.
 
"We have a lot at stake and a lot to play for," McKeown said. "We're both fighting for our NCAA lives. You have great opportunities for both of us. I think we're both going to play with a chip on our shoulder Thursday."
 
Iowa enters postseason after defeating Wisconsin, 71-60, on Senior Day on Feb. 26.
 
"As a coach, you try to use everything you can and you have to build on that," Bluder said. "Going into the tournament off a win — use it. Here is something positive and we have to use that motivation."
 
Not coincidentally, Gustafson had her 15th double-double of the season against the Badgers (22 points, 14 rebounds) and Disterhoft added 19 points, six rebounds, and three blocked shots. Doyle and Meyer combined for 10 assists, nine points, and four steals.
 
Disterhoft and Gustafson, both first-team All-Big Ten selections, will demand most of Northwestern's defensive energy Thursday at Bankers Life Fieldhouse. But the Wildcats would be wise to keep an eye on Iowa's rookie backcourt.