Hawkeye Fan Shop — A Black & Gold Store | 24 Hawkeyes to Watch 2016-17 | Hawk Talk Monthly — Feb. 2017 | 2016-17 Women's Basketball Media Guide | Big Ten Tournament Bracket | Iowa-Northwestern Box Score (PDF)
Editor's Note: The following first appeared in the University of Iowa's Hawk Talk Daily, an e-newsletter that offers a daily look at the Iowa Hawkeyes, delivered free each morning to thousands of fans of the Hawkeyes worldwide. To receive daily news from the Iowa Hawkeyes, sign up HERE.
By DARREN MILLER
hawkeyesports.com
IOWA CITY, Iowa — Alexa Kastanek is set for her final Big Ten Tournament as a member of the University of Iowa women's basketball team.
 
When the eighth-seeded Hawkeyes (17-12 overall, 8-8 Big Ten) take on ninth-seeded Northwestern (19-10, 8-8) on Thursday at Bankers Life Fieldhouse in Indianapolis, Kastanek might play one minute, like she did earlier this season in wins against Nebraska and Rutgers, or 42 minutes, like she did in a double-overtime loss at Indiana. Regardless of when or how long Iowa head coach Lisa Bluder calls Kastanek's number, the Hawkeyes will benefit from an experienced, hard-working leader who puts we before me.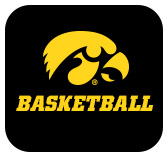 After two seasons as a role player off the bench, Kastanek broke through as a junior, starting 20 of 33 games and averaging 20.6 minutes per game. Featuring a deadly touch from distance, Kastanek sank 56 3-point field goals and averaged 8.0 points per game.
 
But Kastanek, a senior, played 10 minutes or less in 17 of Iowa's first 23 games this season, with no starts.
 
"It is hard to be patient, but most of the time it pays off," Kastanek said. "I know our offense inside and out and I have been preaching to the girls on the bench that you can't clock out. You have to pay attention because you see things differently than what people see on the court. Knowing your role as it changes can happen to anybody. You have to make sure everyone keeps their head up, even if they are having a few down games."
 
When sophomore point guard Tania Davis suffered a season-ending knee injury Feb. 5 at Michigan, Kastanek stepped up. In the final six games of the regular season, she has averaged 22 minutes per game with two starts.
 
"It's a great example of staying positive and working hard every day, because then, when your name is called, you're prepared," Bluder said. "If you had a negative attitude, if you quit trying, your name probably wouldn't be called for one thing, but if you are called, you are not going to be ready and you're going to tank. (Alexa) has tried to find ways to contribute to our team no matter what her role is on the court. I admire that, because that's a hard role to be in."
 
The 5-foot-10 guard from Lincoln, Nebraska, has enjoyed many Hawkeye highlights, including her favorite, a 73-70 win at No. 9 Penn State on Feb. 6, 2014. But more often, the games were not about points, opponents, and final scores. Kastanek remembers little things, like taking charges that caused momentum swings in Iowa's favor. And celebrating on the bench after one of Melissa Dixon's 334 career 3-point field goals.  Or chest-bumping Theairra Taylor and Davis after big plays.
 
"That is what I will cherish," Kastanek said.  
 
Don't get the impression that Kastanek wasn't productive on the statistics sheet. Twice she scored 22 points in a game, three times she pulled down seven rebounds in a game, twice she had seven assists in a game, and on Nov. 26, 2015, she made six 3-point field goals against Wright State. For her career, Kastanek has scored 572 points with 108 3-point field goals.
 
If Kastanek didn't save the best for her final regular-season game in Carver-Hawkeye Arena on Feb. 26, it had to be close. She made back-to-back 3-point field goals within 50 seconds of each other in the fourth quarter to slam the door on Wisconsin during a 71-60 Hawkeye victory. 
 
"I have done whatever it takes for my team to be successful, whether that is playing 40 minutes or five minutes, whether it is scoring or defending," Kastanek said. "It is knowing what a team player is, and being that team player, because that is what Iowa basketball is all about."
 
Iowa basketball is also about winning, something the Hawkeyes have done consistently since Kasanek arrived on campus in 2013. In the last four seasons, Iowa has a record of 89-43 overall (67.4 winning percentage), 41-27 in the Big Ten (60.3).
 
A two-time Academic All-Big Ten selection, Kastanek will graduate in May with a degree in psychology and sociology.