Hawkeye Fan Shop — A Black & Gold Store | 24 Hawkeyes to Watch 2016-17 | Hawk Talk Monthly — March 2017 | Final Results
IOWA CITY, Iowa — The No. 14 University of Iowa women's gymnastics team defeated Iowa State, 196.725-195.300, on Saturday afternoon inside Carver-Hawkeye Arena. The score marks a new season high for the team.
 
With the victory, the Hawkeyes lead the Iowa Corn Cy-Hawk Series, 18-7.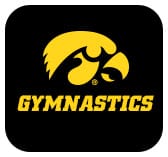 Four GymHawks earned a combined seven event titles to highlight the competition. Senior Mollie Drenth led the pack as she tied for the title on vault (9.875), beam (9.850), and in the all-around (39.350). Her all-around score ties her season best.
 
"It's always nice get a win over the Cyclones, because it's a Hawkeye state," said UI head coach Larissa Libby. "We've been on the road for a long time and have had lots of meets in ten days, and the team is a little tired. It showed up in the first two events, but in the back half they really picked it up and you saw what our team is made of. We're really proud of them.
 
"It was a great score for us tonight and it's going to make a big difference for us in RQS, since now we can count our last road score by scoring this high at home today. We've been trying to aim for that 197, and we're getting really close. That would be incredible for us, and would take the program to the next level."
 
Iowa earned their highest score of the competition on floor with a season-best 49.525. All six GymHawks in the rotation earned or tied their season high. Junior Lanie Snyder finished at the top of the podium with a career-high 9.950, which tied the second-best score in Iowa history. Freshman Clair Kaji followed in second with a career-high 9.925, while junior Melissa Zurawski tied for third with a score of 9.900, which also tied her season high.
 
"The team was tired, but I asked them to dig deep and think hard about how tight they needed to be," said Libby. "I was very proud to see how we did on the back half, because we were losing the entire meet. To come out of the gate and kind of falter and then bring it back as hard as they did is incredible. I'm just so pleased."
 
The Hawkeyes posted a score of 49.175 on beam. Drenth, Kaji, and senior Angel Metcalf tied for the win with scores of 9.850. Junior Nikki Youd followed in fourth with a score of 9.825, while freshman Charlotte Sullivan earned a 9.800.
 
Iowa registered a 49.050 on uneven bars. Metcalf finished first overall with a score of 9.900. Sullivan and senior Lexi Mura tied for third with scores of 9.825. This marks a season high for Mura.
 
The Hawkeyes recorded a score of 48.975 on vault. Drenth tied for the title with a score of 9.875, a mark which tied her season high. Zurawski finished in fourth with a 9.825, while Sullivan was fifth with a 9.800.
 
The GymHawks return to action at the Big Five Meet against No. 11 Michigan, Penn State, Rutgers, and Minnesota on March 11 at 3 p.m. (CT) inside Carver-Hawkeye Arena. For ticket information, call 1-800-IA-Hawks or visit hawkeyesports.com/tickets.