Hawkeye Fan Shop — A Black & Gold Store | 24 Hawkeyes to Watch 2016-17 | Hawk Talk Monthly — March 2017
Editor's Note:
 The following first appeared in the University of Iowa's Hawk Talk Daily, an e-newsletter that offers a daily look at the Iowa Hawkeyes, delivered free each morning to thousands of fans of the Hawkeyes worldwide. To receive daily news from the Iowa Hawkeyes, sign up HERE.
IOWA CITY, Iowa — On March 4, University of Iowa women's gymnastics seniors Savannah Borman, Mollie Drenth, Ashleigh Edlin, Angel Metcalf, and Lexi Mura will compete at Carver-Hawkeye Arena a final time.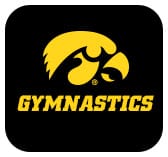 As the seniors reflect on their time at Iowa, memories and emotions arise. The support from Hawkeye Nation during regionals was one of those memories.
 
"Hosting regionals last year was so much fun," said Mura. "It was great to be at home with all of our fans here to support us. It was an experience that I don't think any of us will ever forget."
 
The five GymHawks have seen an improved ranking each season wearing black and gold. This year, Iowa is ranked No. 14 prior to the season finale. Although rankings are important, certain wins stand out.
 
"Beating Nebraska last season was amazing," Edlin said. "It was the first time Iowa has defeated them in 17 years, so to be the ones to do that was incredible."
 
While each year has had its special moments, this season has been one to remember. The seniors entered their final season with two goals: have a great final season and leave a legacy for those who will follow.
 
With only a few meets left, the seniors want to make every memory count before they put on the Iowa uniform for a final time. 
 
"I think this whole season has been special," said Metcalf. "The end is sad, but it's also fun, because you get to start that new chapter in your life. I think championship season will be fun and surreal. I know I will feel sad when it's my last competition, because it's something I've been doing my entire life."
 
As the seniors prepare to move on to the next chapter of their lives, they know they will be successful thanks to the support and preparation the program and coaches have given them.
 
"Our team is one big family," said Borman. "We're all close. Having a big support system around us all the time has been great and helpful. Not being around them all the time will be a hard adjustment."
 
Said Drenth:
 
"With our program and coaches, the past four years haven't been about gymnastics. They focus on us and who we are as a person, too. Being in that atmosphere has helped us grow, not only in the gym as athletes, but outside the gym as well.
 
"Some of us struggle with things outside of gymnastics, but the coaches have helped us learn how to overcome those obstacles and prepare for the outside world. With it being our last year, none of us know what's going to happen, but we know we're going to be on the right path because of all that we've learned here."
 
While the end of the season is ahead, one thing is clear: the seniors have had a lasting mark on their teammates, coaches, and program by being leaders and helping turn Iowa into a national power.