IOWA CITY, Iowa – – University of Iowa basketball fans who are season tickers holders are able to order postseason tickets for both the men's and women's basketball teams, beginning today.  Season ticket holders have until 4 p.m. (CT) Friday to place advance orders.
The Iowa men completed the regular season Sunday with a 90-79 win over Penn State, and will participate in the Big Ten Conference Tournament this week in Washington, D.C.  The Hawkeyes (18-13) meet Indiana (17-14) on Thursday at 5:30 p.m. CT (ESPN2).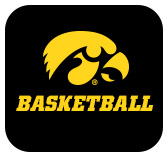 Men's basketball season ticket holders can place orders for both a possible NCAA Tournament berth, or reserve seats in Carver-Hawkeye Arena should the Hawkeyes host a first round NIT contest.  NCAA Tournament ticket orders will be filled based on the Athletic Ticket Office priority points system.  The link to order men's postseason tickets is:  www.hawkeyesports.com/basketballtickets
Should the Hawkeye men host a first round NIT game, season ticket holders will be assigned their regular season seats, or comparable seat locations.  Season ticket holders who order prior to 4 p.m. Friday, March 10, will receive a $5 discount per ticket, and may request up to the number of season tickets they held for the 2016-17 season.  Tickets must be ordered online and fans are encouraged to take advantage of the print-at-home delivery method.
Season ticket holders and I-Club contributors will be provided an opportunity to order NIT tickets online prior to the general public after the announcement on Sunday, March 12, through noon on Monday, March 13.  A limit of 10 tickets per household has been established at the regular rate of $20 for adults and $5 for youth.
All fans will be able to order NIT tickets after noon (CT) on March 13.  General public tickets are $20 for adults and $5 for UI students and youth tickets, and will be available during normal business hours at the Athletic Ticket Office inside the Dale & Marilyn Howard Family Pavilion on the north side of Carver-Hawkeye Arena, over the phone at 1-800-IA-HAWKS, or online at www.hawkeyesports.com/basketballtickets.
The women's team finished the season with a 17-13 overall record and an 8-8 mark in conference action.  The women will wait until Monday, March 13, to learn their postseason destination.  Season ticket holders can order WNIT tickets online prior to game information being announced.  Once game information is announced, general public sales will begin immediately.  Should Iowa host a first round WNIT game, ticket prices are $10 for adults and free for UI students and youth tickets.