Hawkeye Fan Shop — A Black & Gold Store | 24 Hawkeyes to Watch 2016-17 | Hawk Talk Monthly — March 2017 | Notes – Big Five Meet
IOWA CITY, Iowa – The No. 16 University of Iowa women's gymnastics team hosts the Big Five Meet on Saturday at 3 p.m. inside Carver-Hawkeye Arena. The Hawkeyes face No. 11 Michigan, Penn State, Rutgers, and Minnesota to determine seeding for the 2017 Big Ten Women's Gymnastics Championships. Doors open at 2 p.m.
"I'm looking forward to seeing how we measure up to everyone else in the Big Ten that we haven't seen so far this season," said UI head coach Larissa Libby. "To be in a postseason meet like this is such a different atmosphere. I think it will be really exciting. I'm interested to see the level that we can go to.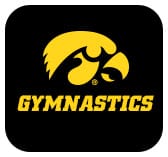 "The pinnacle of success all year that we have been working towards is to get to a 197, and I think we are completely capable of that. I will be ecstatic if we get to that 197 mark, because I think it will be vindication for everything the team has been working for all year and justification of where we believe our potential lies. I think we are sitting in a great situation. We've got a great rotation and we're coming off a successful meet, so that's good for us."
The top-three teams of the meet will go onto to compete in the night session at 4 p.m. (CT) of the Big Ten Championships in Piscaway, New Jersey, on March 18. The remaining two will compete in the morning session at 11 a.m. (CT).
The Hawkeyes enter Saturday with 12-5 overall record and a 4-1 mark in conference action. Iowa is tied for first in the Big Ten and ranked No. 16 nationally with a regional qualifying score (RQS) of 196.315. The GymHawks rank 16th nationally on beam (49.175 RQS), 17th on floor (49.160), 19th on bars (49.070), and 24th on vault (48.955). Iowa also ranks in the top-four in every event in the Big Ten Conference.  The Hawkeyes rank third on bars (49.070 RQS) and beam (49.175) and fourth in the conference on vault (48.955 RQS) and floor (49.180).
Four GymHawks are ranked in the top-ten in the conference. Senior Mollie Drenth ranks second in the all-around (39.245 RQS) and is tied for tenth on beam (9.855). Senior Angel Metcalf is tied for fourth on bars (9.870) and seventh on beam (9.860). Junior Melissa Zurawski is also ranked fourth on bars (9.870) and is sixth on floor (9.875). Freshman Clair Kaji is tied with Zurawski for sixth on floor (9.875).
Iowa earned its 12th win of the season against Iowa State as part of the Iowa Corn Cy-Hawk Series last Saturday with a season-high 196.725. Drenth tied for the all-around title with a score of 39.350, which tied her season high.
Michigan is ranked No. 11 nationally with a RQS of 197.595. The Wolerines are tied for first in the conference, with a 8-3 overall record and 4-1 mark in conference action.  Minnesota is ranked No. 34 nationally with a 194.340 RQS. The Golden Gophers are ranked fifth in the Big Ten and own a 9-4 overall record with a 3-2 conference record.  Penn State holds a 9-6 overall record, with 2-3 in conference action, to be ranked seventh in the Big Ten. The Nittany Lions are also ranked No. 34 nationally with a RQS of 195.020.  Rutgers ranks No. 46 in the nation with a 194.370 RQS. The Scarlet Knights are eighth in the conference with a 10-11 overall record and 1-4 conference record.
The first 250 fans at the meet will receive free glow sticks.One hour prior to the start of the meet there will be Hot Dog Happy Hour where fans can purchase hot dogs for only one dollar. The Kids Zone will be available for young Hawkeye fans and will include tattoos, trivia questions, and building snowflakes. Fans will also have the opportunity to sign the "I Am" Banner. Additionally, a few lucky fans will be selected for the "Best Seat in the House" with floor seats.
Fans can follow the Big Five Meet on Saturday through live stats on hawkeyesports.com or by following @IowaGymnastics on Twitter and Instragram or on Facebook at facebook.com/iowagymnastics. Fans can also live stream the meet on the BTN2Go. The meet will be tape-delayed on the Big Ten Network on Sunday at 2 p.m. (CT).