Hawkeye Fan Shop — A Black & Gold Store | 24 Hawkeyes to Watch 2016-17 | Hawk Talk Monthly — March 2017 | Final Results
IOWA CITY, Iowa – The No. 16 University of Iowa women's gymnastics team recorded a total of 196.400 to finish second at the third annual Big Five Meet on Saturday afternoon. This finish qualifies them for the night session of the Big Ten Championships on March 18, as the top three teams of the Big Five move onto in the night session and the remaining two compete in the night session.
 
The GymHawks faced No. 11 Michigan (197.150), Penn State (195.450), Minnesota (194.825), and Rutgers (192.650) inside Carver-Hawkeyes Arena. Michigan tied for the Big Ten regular season champion title with Nebraska, who competed in the Illinois Big Five Meet.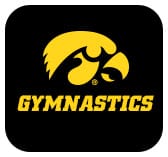 "I'm am so happy. To us, qualifying for the night session is a win," said UI head coach Larissa Libby. "We proved that we are worthy of being in that session today, and we have just not been able to do that in the past. We've competed well, but it's never been good enough to make that jump into the night session. I couldn't be more proud of how the team competed today."
 
 Four GymHawks tallied six top-five finishes and two GymHawks earned event titles to highlight the competition.
 
In the all-around, senior Angel Metcalf finished runner-up with a season-high 39.375.
 
"I thought Angel had a great meet today," said Libby. "This is probably some of the best gymnastics that she's done and the most confident that I've seen her."
 
 Iowa started the night on beam with a score of 48.875. Senior Mollie Drenth paced the GymHawks on beam with a score of 9.900 to tie for the event title. Metcalf followed closely behind with a 9.850 in fourth overall, while freshman Charlotte Sullivan scored a 9.800 to tie for 11th.
 
The Hawkeyes earned their highest score of the competition on floor with 49.275. Junior Melissa Zurawski had the best finish for Iowa. She finished fourth with a score of 9.875. Drenth, Metcalf, junior Lanie Snyder, and freshman Clair Kaji all tallied scores of 9.850 to tie for seventh.
 
Iowa recorded a score of 48.875 on vault. Sophomore Maria Ortiz was the runner-up in the event with a season-high 9.850. Drenth and Zurawski posted scores of 9.800 to tie for ninth. 
 
The Hawkeyes finished the night on uneven bars with a 49.325, tying their season high in the event. Metcalf finished at the top of the podium with a career-high 9.950. Zurawski followed in fourth overall with a score of 9.900.
 
"Scoring a career-high on my last event here at Carver was awesome," said Metcalf. "It didn't really sink in at first, because we still have more competitions to go. But,  I probably couldn't have gone out a better way in my last home meet."
 
Iowa's Big Five Meet will appear tape-delayed on the Big Ten Network tomorrow at 2 p.m. (CT).
 
The GymHawks return to action in Piscaway, New Jersey, at the Big Ten Championships on March 18 at the Livingston Gym. Iowa will compete in the evening session, beginning at 4 p.m. (CT). Six teams will compete at the night session, and the remaining four will compete in the morning session at 11 a.m. (CT). Both sessions will appear on Big Ten Network. 
 
"I'm looking forward to being on the floor at the Big Ten Championships in the evening session to give our team a chance to show what they're capable of," said Libby.