Hawkeye Fan Shop — A Black & Gold Store | 24 Hawkeyes to Watch 2016-17 | Hawk Talk Monthly — March 2017
IOWA CITY, Iowa – A record number of University of Iowa women's gymnasts earned All-Big Ten selections, the conference office announced on Monday.
 
Seniors Mollie Drenth and Angel Metcalf, juniors Lanie Snyder and Melissa Zurawski, and freshman Clair Kaji were named All-Big Ten gymnasts. Drenth and Metcalf earned conference honors for the second straight year while Snyder, Zurawski, and Kaji made the list as second team selections for the first time in their careers.
 
The Hawkeyes earned five All-Big Ten honors for the first time in the team's history, surpassing their previous high of three (2011, 2010, 2004, 2007, 2001).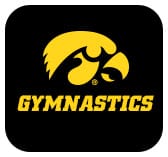 The selections were determined by calculating each individual's regional qualifying score (RQS). These are comprised of taking the six best performances on an event, dropping the highest score, and averaging the remaining five. Three of these scores must be from away meets.
 
Drenth, a 2016 All-American, garners her second straight conference honor. She leads the Hawkeyes in the all-around in 2017. The Riverview, Florida, native ranks fourth in the Big Ten in the all-around with an RQS of 39.245. Drenth's season high of 39.350 came against Iowa State on March 4 and Ohio State on Jan. 21. She claimed the event title both times. She is also tied for the team lead on vault (9.875) and has the third-best score all-time on beam (9.950).
 
Metcalf led Iowa on uneven bars (9.950) and in the all-around (39.375) in 2017 on her way to her second All-Big Ten honor. The Swansboro, North Carolina, native is fifth in the Big Ten on uneven bars with an RQS of 9.875. At the Big Five meet on March 11, Metcalf tied for the second-highest score all-time on uneven bars with a score of 9.950 to take home the event title.
 
Zurawski earns her first all-conference selection. She has competed on three events (vault, uneven bars, floor exercise) for the Hawkeyes this season. She is seventh in the conference on floor and uneven bars with RQS scores of 9.880 and 9.870, respectively. Her score of 9.925 on uneven bars against Maryland on January 29 is tied for third all-time.
 
Snyder has competed on floor in every meet this season for the Hawkeyes. The Omaha, Nebraska, native is 10th in the Big Ten on floor with an RQS of 9.865. Her season high on the event came against Iowa State on March 4. Her score of 9.950 is tied for second all-time.
 
Kaji has competed on three events as a freshman this season. She recorded 9.925 on floor against Iowa State on March 4th. That is tied for the third-highest all-time. Her RQS on floor is ninth in the Big Ten.
 
The GymHawks are back in action at the Big Ten Championships on March 18 in Piscataway, New Jersey. Iowa is set to compete in Session II at 4 p.m. (CT).