Hawkeye Fan Shop — A Black & Gold Store | 24 Hawkeyes to Watch 2016-17 | Hawk Talk Monthly — March 2017 | 2016-17 Women's Basketball Media Guide | 2017-18 Women's Basketball Ticket Wait List | WNIT Bracket
By DARREN MILLER
hawkeyesports.com
IOWA CITY, Iowa — Here's a twist: The more things stay the same, the more they change.
 
For a second season in a row, the University of Iowa women's basketball team will host a first-round game in the WNIT. That's the "same." The "change" is that this season, Hawkeye coaches and players pledge a focus that was absent a year ago.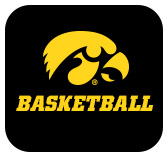 "We were so disappointed we weren't in the NCAA Tournament (in 2016), we flopped in the WNIT," Iowa head coach Lisa Bluder said Tuesday at a news conference in Carver-Hawkeye Arena. "This year it is not a surprise, so we have embraced (the WNIT), we're ready for it. It could be a lot of fun, especially for a team that is so young and has so much to learn."
 
Iowa entered the 2016 WNIT with a record of 19-13. The Hawkeyes trailed Ball State by as many as 16 points in the second half and lost, 77-72.  Double-double machine Megan Gustafson — then a freshman — scored 22 points with 12 rebounds (eight offensive).
 
"What is different from this year and last year is we thought we were in the NCAA Tournament (in 2016) and we knew it was less of a chance this year," Gustafson said. "Our team is doing a good job of refocusing this year. There is disappointment not getting into the NCAA Tournament, but we can do awesome things in the WNIT."
 
The Hawkeyes (17-13) host Missouri State (16-14) on Thursday at 7 p.m. (CT) on Mediacom Court inside Carver-Hawkeye Arena. The Lady Bears, from the Missouri Valley Conference, are on a three-game skid in the month of March. The all-time series is knotted 4-4, but Missouri State has won the only postseason meetings. Iowa hosted the second round of the NCAA Tournament on March 22, 1992, with Missouri State winning, 61-60, in overtime. On March 28, 2005, in the WNIT semifinals in Springfield, Missouri, the Lady Bears prevailed, 89-80.
 
Iowa has not been tested on a court since a 78-73 loss to Northwestern in the Big Ten Tournament on March 2. The Hawkeyes returned to Iowa City, logged an intense "back-to-basics" week of practice, and had an extended weekend off to enjoy a mini-spring break with family.
 
"It was similar to a week in October where you are working on yourself, fundamentals, reviewing a lot of things," Bluder said. "We put a few tweaks in and then we let (the student-athletes) have a three-day weekend off. We wanted them to get a feel for spring break, they are college students."
 
There is also a bit of irony associated with Iowa's most recent outing in the WNIT. Hawkeye senior Ally Disterhoft scored 19 points against Ball State, the exact number of points she needs to tie Cindy Haugejorde for the school's all-time scoring record of 2,059.
 
"That is an incredible honor; that record has stood since (1980)," Bluder said. "It is an amazing accomplishment and we want to make sure she gets it."
 
Disterhoft will be ready from Thursday's opening tip. She knows the WNIT is loaded with quality depth, including Michigan, Indiana, and Penn State — teams that finished above Iowa in the final Big Ten standings.
 
"You can't take anything for granted," Disterhoft said. "There are a lot of great teams in the WNIT. Everybody comes ready to play and it doesn't matter if you're playing on your home court or on your opposition's court."
 
Iowa has made 10 consecutive postseason appearances.