Hawkeye Fan Shop — A Black & Gold Store | 24 Hawkeyes to Watch 2016-17 | Hawk Talk Monthly — March 2017 | 2017 Football Season Tickets | KinnickEdge.org | A VIDEO — A Look Toward the 2017 Season | Signing Day Central
Editor's Note: The following first appeared in the University of Iowa's Hawk Talk Daily, an e-newsletter that offers a daily look at the Iowa Hawkeyes, delivered free each morning to thousands of fans of the Hawkeyes worldwide. To receive daily news from the Iowa Hawkeyes, sign up HERE.
By DARREN MILLER
hawkeyesports.com
IOWA CITY, Iowa — George Kittle slid his index finger across a bulletin board in the Stew and LeNore Football Performance Center.
 
"Checking to see if anyone broke my records," Kittle said as he glanced at offseason fitness results for current University of Iowa tight ends.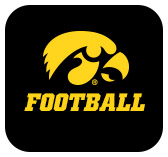 His marks survived another year: 1.43 seconds in the 10-yard dash in 2016, 4.03 pro agility in 2014, and the granddaddy of them all, a 41-8 vertical jump in 2013. 
 
That statistical hodge podge didn't define Kittle the last five years as a key member of the Hawkeye football program. Ironically, numbers like a 4.52-second 40-yard dash and 132-inch broad jump have put Kittle in the news and in the minds of NFL scouts.
 
"You have long days," Kittle said of the NFL Combine that was held Feb. 28-March 6 at Lucas Oil Stadium in Indianapolis. "You're up at the crack of dawn and going until late at night. I enjoyed it; you get to be around guys that are incredibly successful at the college level."
 
Guys like tight ends Jake Butt of Michigan and Scott Orndoff of Pittsburgh, who shared at least one thing in common.
 
"I was at a table with (Orndoff and Butt)," Kittle said. "We beat them both on last-second field goals at night, so it was fun to hear their take from the other sideline. It was fun to hear stuff like that."
 
Kittle caught two passes for seven yards during Iowa's 27-24 victory over Pittsburgh on Sept. 19, 2015. Marshall Koehn's 57-yard field goal was the game-winner as time expired. A mid-foot sprain kept Kittle off the field Nov. 12, 2016, when the Hawkeyes defeated Michigan, 14-13. Keith Duncan kicked a 33-yard game-winner as time expired.
 
The Michigan game was the first of two that Kittle missed because of an injury that limited him from pushing off and changing direction.
 
"I was doing everything one-footed," Kittle said. "It was like driving a car without a wheel."
 
Still, Kittle caught 22 passes for 314 yards and four touchdowns as a senior. In four seasons, he had 48 receptions for 737 yards and 10 touchdowns.
 
While Kittle's athleticism and sure hands make him attractive to professional teams, the fact he blocks like an offensive lineman makes him stand out. Iowa was awarded the Joe Moore Award for the most outstanding offensive line unit in 2016 and Kittle certainly contributed. The Hawkeyes ran for 2,234 yards, an average of 4.5 yards per attempt, and 23 touchdowns.
 
"I feel I'm the best run-blocking tight end in the draft," said the 6-foot-4, 247-pound Kittle. "That is one thing we pride ourselves on at Iowa. I came into the program at 6-2, 200 pounds, so I had to work, claw, and fight to get to 250. I just played the one season at 250 pounds, so I feel I have a high ceiling."
 
Kittle's 40-yard time at the Combine was third among 20 tight ends behind only Evan Engram of Mississippi (4.42) and O.J. Howard of Alabama (4.51). His broad jump was third behind Bucky Hodges of Virginia Tech and David Njoku of Miami (Florida).
 
"I don't think anyone expected me to test that well," Kittle said. "I read a review that said I was going to be a very average tester and I was a slow, unathletic guy from Iowa. I am going to prove you all wrong. Everyone (at Iowa) knows the athletic ability I have. It was nice to show what I can do."
 
Kittle was joined in Indianapolis by fellow Hawkeyes C.J. Beathard, Desmond King, and Jaleel Johnson. The 2017 NFL Draft is April 27-29 in Philadelphia.
 
Kittle returned to Iowa City a few days after the 2017 Outback Bowl, then spent two months at the EXOS training center in Frisco, Texas. He will remain in Iowa City until he is either drafted or signed as a free agent.
 
"If I can make a team, that's all I care about," Kittle said. "I will go anywhere as long as I get a chance to prove what I can do."
Questions concerning the purchase of 2017 football tickets, including general public, University of Iowa faculty/staff and UI student seasons tickets by current UI students, should be directed to the UI Athletics Ticket Office. The office is open weekdays from 9 a.m. to 4 p.m. (CT). The office telephone number is 1-800-IA-HAWKS.  Information is also available at hawkeyesports.com/tickets. The deadline for season ticket renewals is Friday, March 31.