Hawkeye Fan Shop — A Black & Gold Store | 24 Hawkeyes to Watch 2016-17 | Hawk Talk Monthly — March 2017 | 2017 Football Season Tickets | KinnickEdge.org | A VIDEO — A Look Toward the 2017 Season | Signing Day Central | VIDEO — Pro Day | VIDEO — Jake Duzey | Pro Day Photo Gallery
Editor's Note: The following first appeared in the University of Iowa's Hawk Talk Daily, an e-newsletter that offers a daily look at the Iowa Hawkeyes, delivered free each morning to thousands of fans of the Hawkeyes worldwide. To receive daily news from the Iowa Hawkeyes, sign up HERE.
By DARREN MILLER
hawkeyesports.com
IOWA CITY, Iowa — Jake Duzey is smiling again.
 
Smiling like he was in 2011 when he signed a National Letter of Intent to play tight end at the University of Iowa. Smiling like he was during an end zone celebration in 2013 after taking one of six receptions at Ohio State 85 yards for a touchdown. Smiling like he was as a Hawkeye junior in 2014 when he caught 36 passes for 392 yards and three touchdowns.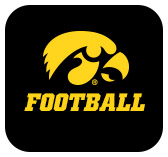 But there wasn't much for Duzey to smile about for the better part of the past two years. He injured his left patellar tendon prior to his senior season in 2015 and sat out victories against Illinois State, Iowa State, and Pittsburgh. He played sparingly in nine regular-season games — all Iowa wins — with no statistics.
 
Then, on Christmas Day, 2015, during a blocking drill less than a week before the Hawkeyes played Stanford in The Rose Bowl Game, Duzey reinjured his left knee. Not only was playing in the Granddaddy of Them All out of the question, but so was his chance of getting drafted into the National Football League.
 
"It was tough for a while," Duzey said. "I had a great support system — my family, my girlfriend, my friends and family were there the whole time. I didn't know what was going to happen, but I knew I wanted to come back for this day and make it happen."
 
This day for Duzey was the annual Pro Day hosted by the Hawkeye football program Monday in the Stew and LeNore Hansen Football Performance Center. All 32 NFL teams and three from the Canadian Football League were in attendance, watching 11 Hawkeyes who used up their eligibility in 2016…and Duzey.
 
Highlights for the 6-foot-3, 245-pound Duzey were a time of 4.62 in the 40-yard dash, a 34-inch vertical jump, and he benched 225 pounds 23 times.
 
"I felt good all day," Duzey said. "A couple (teams) said they will give me a call. They wanted to make sure I could run around like I used to and my knee wasn't a problem anymore."
 
Duzey is not eligible to be drafted since he spent the 2016 season out of football. 
 
"I have to get picked up in free agency, get a tryout, and prove I can play football again," Duzey said.
 
Duzey rehabbed in Iowa City for eight months after the Hawkeyes returned from The Rose Bowl Game. He continued physical therapy in Phoenix for 3 ½ months before heading home to Troy, Michigan, to train 40 miles away in Wixom.
 
"I have been preparing for this day for a long time," Duzey said.
 
To make ends meet, he worked for OrderUp in Iowa City, did Lyft driving in Arizona, and was employed by Field and Stream in Michigan.
 
"Ever since I got hurt I didn't know what would happen, so I took it easy and made sure my knee was good to go," said Duzey, who does not wear a knee brace. "After it got healthy, I thought I might as well give it a shot."
 
When Duzey came to Iowa, the Hawkeyes were stocked at tight end with C.J. Fiedorowicz, Henry Krieger-Coble, Ray Hamilton, and Zach Derby. The following season, George Kittle joined the group.
 
Fiedorowicz, Hamilton, and Krieger-Coble have been to NFL camps; Fiedorowicz (Texans) and Krieger-Coble (Broncos) have been on active rosters. It's not a long shot that a healthy Duzey will join them soon in the professional ranks.
 
That will be something to smile about.
 
Questions concerning the purchase of 2017 football tickets, including general public, University of Iowa faculty/staff and UI student seasons tickets by current UI students, should be directed to the UI Athletics Ticket Office. The office is open weekdays from 9 a.m. to 4 p.m. (CT). The office telephone number is 1-800-IA-HAWKS.  Information is also available at hawkeyesports.com/tickets. The deadline for season ticket renewals is Friday, March 31.