Hawkeye Fan Shop — A Black & Gold Store | 24 Hawkeyes to Watch 2016-17 | Hawk Talk Monthly — March 2017 | 2017 Football Season Tickets | KinnickEdge.org | A VIDEO — A Look Toward the 2017 Season | Signing Day Central | Practice Photo Gallery | Coach Wallace Transcript
By JAMES ALLAN
hawkeyesports.com
IOWA CITY, Iowa — There is more spring clarity for the University of Iowa football team with three senior starters returning at linebacker.
 
Collectively, the trio of Josey Jewell, Bo Bower, and Ben Niemann has combined to start 84 games in the first three seasons of their Hawkeye careers.  The group returns for an encore in 2017.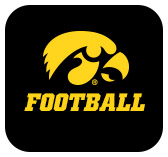 "We have leadership at the linebacker position and we have guys with a ton of experience," Iowa linebackers coach Seth Wallace said Wednesday at a news conference in the Stew and LeNore Hansen Football Performance Center.  
 
"But I think everybody in each of those positions recognizes that there is plenty of football we left out there (in 2016) and there is plenty of improvement to be made."
 
The Hawkeyes have gone through four practices since spring ball began March 22.  Wallace sees a motivated, experienced group, but one that needs to work to develop more pieces.
 
"This is a big period right now," he said. "They're moving forward and moving forward as a group.  We have to find some other guys."
 
Wallace has 13 linebackers participating in spring drills — 11 were on the field Wednesday with the two Niemanns — senior Ben and redshirt freshman Nick — temporarily sidelined.
 
Along with the senior trio, Iowa has returning lettermen in juniors Jack Hockaday and Aaron Mends and sophomores Amani Jones and Kristian Welch.  Three players — Barrington Wade, Nick Niemann, and Kyle Wade — are in the mix after redshirting last fall.
 
"There was a mid-point in last year's season where we wished they were not redshirted from a reps standpoint," said Wallace. "There are guys out there with length, speed, and athleticism, and it would have been nice to have them last year, but we're sitting in a good position right now.
 
"We have a chance to get them better and see where they fit in."
 
The Hawkeyes have the luxury of mixing and matching pieces with the return of the Hawkeyes' first-(Jewell, 124), second-(Bower, 91), and fourth (Ben Niemann, 69)-leading tacklers. Jewell was also a fourth-team All-American, a second-team All-Big Ten selection, and a finalist for the Butkus Award as a junior.
 
Wallace hopes the seniors stay out in front on the depth chart, but he wants to see healthy competition.
 
"In a couple of weeks, I hope I would be able to tell you that there are guys making a push, making a move to force the hand of those that are in front of them," said Wallace. "I hope that those in front of them continue to stay in front because if that's the case and those in front are getting better, we're getting better behind."
 
Wallace believes the change in Iowa's offense with Brian Ferentz taking over as offensive coordinator and Ken O'Keefe returning as quarterbacks coach has been beneficial.
 
"In the past, we have been able to put our toes in the water before we jumped in when it came to spring practice," said Wallace. "We jumped right in and had water up to our waist on the first day, which has been good for us, we had to adjust.
 
"They have had to grow up and move a little bit faster. With veteran guys, that has been easier because those guys jumped right in."
 
Questions concerning the purchase of 2017 football tickets, including general public, University of Iowa faculty/staff and UI student seasons tickets by current UI students, should be directed to the UI Athletics Ticket Office. The office is open weekdays from 9 a.m. to 4 p.m. (CT). The office telephone number is 1-800-IA-HAWKS.  Information is also available at hawkeyesports.com/tickets. The deadline for season ticket renewals is Friday, March 31.