Hawkeye Fan Shop — A Black & Gold Store | 24 Hawkeyes to Watch 2016-17 | Hawk Talk Monthly — March
Editor's Note: The following first appeared in the University of Iowa's Hawk Talk Daily, an e-newsletter that offers a daily look at the Iowa Hawkeyes, delivered free each morning to thousands of fans of the Hawkeyes worldwide. To receive daily news from the Iowa Hawkeyes, sign up HERE.
By CARI GOLD
hawkeyesports.com
IOWA CITY, Iowa — University of Iowa senior women's gymnasts Angel Metcalf and Mollie Drenth are excited about their fourth postseason competition.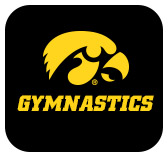 This year will be different from their experience as freshmen. In their first NCAA Regional, the GymHawks did not qualify as a team; instead, Metcalf and Drenth advanced as individuals.
 
Competing in postseason can be nerve-wracking, but going without your team makes it even more challenging.
 
"It's completely different when you go by yourself," said Metcalf. "You're not with your team, your sisters. Your family is not there. I would be honored to go again as an individual, but it's different when your team is there."
 
Individuals competing during postseason are grouped with another team. They warm up, rotate, and compete together.
 
"It was weird being with another team because I didn't know how they worked," said Drenth. "Trying to tumble and warm-up on floor when they were warming up, I didn't know where they were going to go or where I should go. That was tough, because you don't know them and they aren't your family."
 
As sophomores, everything changed. The Gymhawks qualified for the NCAA Regionals, hosted by Auburn. All was right with the world, as far as Metcalf and Drenth were concerned.
 
"Going with your team makes you feel more comfortable," said Metcalf. "Your heart is full when you are with your team. You don't feel scared or out of place. To have your team there, it's a whole other experience."
 
As seniors, Metcalf and Drenth have the same high expectations they have always had.
 
"It's an expectation to qualify for NCAA Regionals now," said Drenth. "We don't consider the possibility of being left out. Now, we are expecting to go to nationals. We aren't nervous, we're excited. We are going to enjoy the moment, have fun, and work on the details we have been working on."
 
As the expectation has become a reality each of the four years for these two seniors, they have become more comfortable being on the national stage.
 
"It's more exciting and less nerve-wracking each year I go," said Metcalf. "As a team, we have been doing better and better in the national rankings. While there is more at stake and there's a little more risk there, it's a place we are comfortable with."
 
With the excitement comes a sense of calm and a peace of mind, factors Metcalf and Drenth hope to share with the freshmen as they share in this adventure.
 
"If they are struggling or need help, I can talk to them and show them that there is no need to stress or worry," said Metcalf. "I'm here to guide them and help in any way I can. Going out there and doing my job will help settle them and help settle their gymnastics, too, so they won't feel nervous."
 
Saturday will be one of the last times Drenth and Metcalf will compete as Hawkeyes, and they want to soak in all the memories they can.
 
"I want us to have fun," said Drenth. "We want to work on the little things we have been working on at practice. We want to be in the present and not focus on the past or future. I want to enjoy every moment of it."
 
"I want to go out and have fun and do what I always do in the gym," said Metcalf. "I want to not take it too seriously, but not take it too lightly either because there are things at stake. We want to push through, but that's not what I should focus on. I want to focus on giving the best performance I can for possibly my last time competing."
 
The Hawkeyes compete at the NCAA Regional on Saturday in Champaign, Illinois. The meet is slated for a 4 p.m. (CT) start.