Hawkeye Fan Shop — A Black & Gold Store | 24 Hawkeyes to Watch 2016-17 | Hawk Talk Monthly — March 2017 | NCAA Book
CHAMPAIGN, Ill. — The No. 17 University of Iowa women's gymnastics team capped its season in NCAA Regional action inside the State Farm Center on Saturday afternoon with a third place finish and a score of 196.050.
Seven GymHawks marked a total of 11 top-15 finishes to highlight the competition. Senior Angel Metcalf led the way for the Hawkeyes, finishing at the top of the podium on beam (9.950), third in the all-around (39.300), fourth on floor (9.875).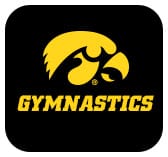 "I have a whirlwind of emotions," said UI head coach Larissa Libby. "I am heartbroken for our five seniors who have worked so hard and their journey is over. We came so close to qualifying today. This regional is definitely one of the hardest ones. We made some mistakes today, and I think if we would have come out and performed like we normally do, it might have been a different story. It just comes down to one mistake here and one mistake there, but you can't make mistakes when you're up against the best of the best."
Metcalf and senior Mollie Drenth represented Iowa in the all-around. Metcalf posted a 39.300 to take third, while Drenth finished tenth with a score of 38.650. Since the first and second place competitors — Kaytianna McMillan (39.400) and Madison Kocian (30.375) — advance with Oregon State and UCLA, Metcalf advances as an individual to the NCAA Championships in St. Louis, Missouri. This will be the first championship appearance of her career.
"I am so happy for Angel," said Libby. "She has worked so hard for the past three years and is so deserving advance to nationals."
Iowa registered its best score of the night on beam with a 49.600, shattering the previous school record of 49.425. Metcalf and freshman Clair Kaji led the GymHawks with career highs of 9.950 to tie for the win. Kaji's finish at the top of the podium automatically advances her to the NCAA Championships. Junior Nikki Youd tied for third with a score of 9.925, which ties her season best. Freshman Charlotte Sullivan and senior Savannah Borman earned season highs of 9.900 and 9.875, respectively.
"It was amazing to finish on beam the way we did," said Libby. "To come out with a 49.600 was unbelievable. I think it sent a message to everyone who said we weren't capable. It proved that we deserve to be here and are deserving of our ranking. (Assistant Coach) Jennifer Green is the best beam coach in the country. Every time we finish on beam, we do fabulous. She empowers the beam team to bring it every time, and proves how amazing of a coach she is at every meet."
The Hawkeyes registered a score of 49.050 on floor. Metcalf and Kaji tied for fourth overall with scores of 9.850. Junior Lanie Snyder followed with a 9.800 to tie for 14th.
Iowa  tallied a 48.850 on uneven bars. Drenth earned a 9.850 in the event to tie for sixth place. Sullivan and Metcalf followed with scores of 9.825 and 9.800, respectively.
The Hawkeyes recorded a 48.550 on vault. Sophomore Maria Ortiz had the best finish in the event for the Hawkeyes with a 9.750 to tie for 15th. Drenth, Metcalf, junior Melissa Zurawski, and sophomore Misty-Jade Carlson registered scores of 9.700.
No. 5 UCLA won the meet with a score of 196.800. No. 8 Oregon State took second (196.150), followed by Iowa (196.050), Illinois (195.825), Ohio State (195.700), and Eastern Michigan (195.400).
The top two teams, UCLA and Oregon State, will continue on to the NCAA National Championships in St. Louis, Missouri, on April 14-15, hosted by the University of Missouri and the St. Louis Sports Commission.
 "I am thrilled for the future of our program, because a lot of young kids were on the podium today. I think they got a lot of first-hand experience today about what it takes to get there," said Libby. "I think we put Iowa on the national scene today, and are only going to continue to get better in the future."