Hawkeye Fan Shop — A Black & Gold Store | 24 Hawkeyes to Watch 2016-17 | Hawk Talk Monthly — March 2017 | 2017 Football Season Tickets | KinnickEdge.org | A VIDEO — A Look Toward the 2017 Season | Signing Day Central
Editor's Note: The following first appeared in the University of Iowa's Hawk Talk Daily, an e-newsletter that offers a daily look at the Iowa Hawkeyes, delivered free each morning to thousands of fans of the Hawkeyes worldwide. To receive daily news from the Iowa Hawkeyes, sign up HERE.
By RICK BROWN
hawkeyesports.com
IOWA CITY, Iowa — Parker Hesse chased autographs as a kid.
 
"I went to Green Bay Packers training camp a time or two, and that was the plan," said the University of Iowa's junior defensive end. "I was running around, chasing guys down. I have an Aaron Rodgers rookie card he signed; I'm proud of that. I also had A.J. Hawk's rookie card signed and a couple of other good guys, but Aaron Rodgers tops the list."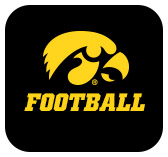 The roles will be reversed April 7, when Hesse and his Hawkeye teammates travel to Valley Stadium in West Des Moines for an open practice that begins at 6:30 p.m. (CT). A 35-minute youth clinic will follow the practice and an autograph session will follow the youth clinic.
 
"It's something special," Hesse said. "I try to handle it the best I can, to be the best role model I can for kids."
 
Hesse grew up in Waukon, Iowa, and dreamed of playing his way into an Iowa uniform.
 
"Growing up on the eastern side of Iowa, everybody wants to be a Hawkeye," Hesse said. "When we played on the playground or in the back yard on Saturday, we were pretending we were Iowa Hawkeyes. Now we'll see kids with the same dream with the same spark in their eye. That's something special, and something I can relate to."
 
Hesse remembers the first game he attended at Kinnick Stadium.
 
"The Miami of Ohio game, when we beat Big Ben," Hesse said.
 
It was the 2003 season opener, and current Pittsburgh Steelers quarterback Ben Roethlisberger quarterbacked the Redhawks in a 21-3 loss.  Hesse was 8-years-old.
 
Senior offensive tackle Boone Myers chased autographs, too. Now he'll be giving them Friday night.
 
"I just hope I can have an impact on kids, to help them chase their dreams and pursue what they want to do in life," Myers said.
 
Like Hesse, Myers grew up a Hawkeye fan in Webster City, Iowa. His family had season tickets (20-yard line, near the Paul W. Brechler Press Box). Every chance he got, Myers tried to get autographs.
 
"Albert Young, Marvin McNutt, I got a lot of them," Myers said. "They're tucked away in a safe spot. It was fun."
 
Myers, a tight end in high school, had no Division I scholarship offers. Northern Iowa and South Dakota State offered, as well as smaller schools. Myers decided to pass on the scholarship dollars to follow his dream.
 
"I knew I would regret it every day if I went to a smaller school and didn't have a chance to run onto Kinnick Stadium and be a part of this program," Myers said.
 
Myers eventually earned a scholarship. Now he hopes to keep the dream alive for the next generation with an autograph, encouragement, or a kind word at Valley.
 
"That's a goal of mine, to leave something behind when I'm gone," Myers said.
 
His fellow senior, offensive guard Sean Welsh, feels the same way.
 
"We owe it to the people in the state, and we owe it to the people in our lives who have put us in this position," Welsh said. "We didn't do it ourselves. We have to pay it forward and give back."
 
Like Welsh, senior safety Miles Taylor remembers being a kid and looking up to players on the high school team, and later college athletes. On Friday, a new generation of youngsters will be looking up to him.
 
"Knowing that we're going to help out and hang out with the kids and perform for them, and also get a chance to talk to them, that's always a good time," Taylor said. "Giving back, that's a good deal."
 
This is the fifth year Iowa has come to Valley for an open scrimmage. The post-scrimmage clinic was added last year and was popular.
 
"I'm ready for this year already," senior linebacker Josey Jewell said. "It was cool to see them be able to experience some of the tackling things and be able to play around a little bit."
 
Jewell got his youthful motivation from a guy in his home town of Decorah, Iowa. It was Brett Van Sloten, who made it to Iowa and lettered from 2010-13.
 
"I looked up to him," Jewell said.
 
On Friday, all eyes will be looking up to Jewell and his teammates.
 
"Having them look up to some of their role models and see them in person, and be able to get an autograph, it just makes everybody's day better," Jewell said. "I think that's awesome."
 
Friday's event is free to the public. Roster cards, schedule cards, and 2017 ticket information will be provided at the West and Southeast gates, which open at 5 p.m. Fans will not be allowed to bring autograph items into the stadium. Only items issued by University of Iowa staff at the event will be autographed.
 
The clinic is open to the first 300 children ages 7-12. All participants will receive a T-shirt. Release of Liability forms will be distributed at the entrance gates. Forms must be completed and signed by the youth's parent/guardian and presented to Iowa staff at Northwest Field Gate at 7:15. Parents/guardians will not be permitted on the field during the clinic.