Hawkeye Fan Shop — A Black & Gold Store | 24 Hawkeyes to Watch 2016-17 | 2017 Football Season Tickets | KinnickEdge.org | Hawk Talk Monthly — April 2017 | A VIDEO — A Look Toward the 2017 Season | Signing Day Central
Editor's Note: The following first appeared in the University of Iowa's Hawk Talk Daily, an e-newsletter that offers a daily look at the Iowa Hawkeyes, delivered free each morning to thousands of fans of the Hawkeyes worldwide. To receive daily news from the Iowa Hawkeyes, sign up HERE.
By DARREN MILLER
hawkeyesports.com
IOWA CITY, Iowa — Former University of Iowa defensive back Anthony Gair is connecting people piece by piece.
 
Puzzle Greetings, a business founded by Gair, is in its second month and doing well. This isn't the first time the 22-year-old native of Plano, Texas, by way of New Orleans, has flashed his brilliant business mind.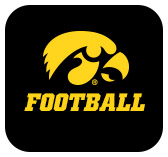 In April of 2015, Gair pitched an idea for a cleat-protecting product called Track Slides that was well received, but the $30-40,000 startup cost was more than a college student-athlete could afford. His second venture is more cost effective and even more popular. In essence, Gair has re-invented the traditional greeting card to become a more personal and interactive puzzle.
 
Prospective buyers can go to puzzlegreetings.com and select puzzles that, when pieced together, spell "Congratulations," "Happy Birthday," "Hoppy Easter," "Be Happy, Be Bright, Be You," and "My World is Brighter Because of You."
 
"A couple years ago I realized that I wasn't connecting often with my family in New Orleans and Texas," Gair said. "As technology continues to advance, I saw a need in the market for something more personal that you could send to family or friends instead of sending a text or direct message on social media."
 
There is additional significance behind Gair's inspiration for the "My World is Brighter Because of You" puzzle. His mother, Raquel, is a middle school teacher in Texas and frequently works with autistic children. Because April is National Autism Awareness Month, for every "My World is Brighter Because of You" puzzle purchased during the month, Gair will donate $1 to an autism foundation. (Puzzle prices range from $14.95 online with free shipping or $11.95 at Iowa Book at 8 South Clinton Street, Iowa City, Iowa).
 
Puzzle Greetings are shipped in a box, complete with confetti, wrapping paper, and a ribbon. Although Gair is the brains of the operation, he isn't a one-man show. He leans on a freelance graphic artist who attends the University of Iowa and the production is done by David Bywater and his team at Tru Art in Iowa City. Diane Fulcher, a good friend of Gair's who lives in Omaha, Nebraska, assists with packaging.
 
"The ideas come out of nowhere," Gair said. "God just placed it in my head somehow and I tried to craft it as best as possible. I wanted to connect with people and I thought connect…puzzle — you have to connect the puzzle."
 
All Puzzle Greetings are designed from left to right as if the recipient is reading or writing, so they can also be used as teaching and cognitive development tools for children.
 
Gair played in 45 games for the Hawkeyes from 2013-16, starting the final three games last season, including the 2017 Outback Bowl against Florida. He compiled 54 tackles and his interception at Pittsburgh on Sept. 20, 2014, preserved a 24-20 Hawkeye victory.
 
Gair graduated in the summer of 2016 with a bachelor's degree in communications studies with an entrepreneurial certificate. He is currently enrolled in graduate school for sport and recreational management.
 
On March 27, the 6-foot, 212-pound safety participated in Iowa's Pro Day in the Stew and LeNore Hansen Football Performance Center in front of scouts and coaches from all 32 NFL teams and three from the Canadian Football League.
 
"If the football thing doesn't work out, I want to finish the master's program I am in," Gair said. "Even though it doesn't have to do with entrepreneurial stuff, we still talk about marketing and sales and I try to tie it back to business as much as possible while still learning about sports."
 
Gair came up with his Puzzle Greetings idea in August of 2015, but since being a student-athlete occupied most of his time, he couldn't get the project running until after his college football career ended in January. That's when Gair created three different puzzle designs (shapes); the directionality and the way the puzzles connect is patent-pending.
 
But first he ran the idea past others, or what entrepreneurs call customer discovery.  Gair pitched Puzzle Greetings to strangers on the street, family members, and of course teammates in the Hawkeye football locker room.
 
"Everybody in the locker room knows about it since I talk about it so often," Gair said. "Greg Mabin, Desmond (King), Josh (Jackson), Miles (Taylor), C.J. (Beathard), all those guys. Connor Keane has an entrepreneurial spirit, so I talked to him about it as well. All the guys like it a lot."
 
More importantly, consumers think it's pretty nifty. Nearly 200 Puzzle Greetings have sold in two months.
 
"I don't know the exact numbers, but I have seen a profit and I want to keep and continue to spread the word, that's the most important thing," Gair said. "The next step will be getting it into more stores so people can see it first-hand and continue to grow from there."