Hawkeye Fan Shop — A Black & Gold Store | 24 Hawkeyes to Watch 2016-17 | 2017 Football Season Tickets | KinnickEdge.org | Hawk Talk Monthly — April 2017 | A VIDEO — A Look Toward the 2017 Season | Signing Day Central | Practice Photo Gallery | VIDEO — Tim Polasek | Tim Polasek Transcript (PDF)
By DARREN MILLER
hawkeyesports.com
IOWA CITY, Iowa — There are plenty of reasons Tim Polasek has been spending a lot of time in the Richard O. Jacobson Football Operations Building.
Tops on the list is that Polasek was named offensive line coach at the University of Iowa on Feb. 14 and the Hawkeyes are entering their third week of spring drills.
Second is that…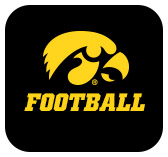 "The football facility is a lot better than my new home," Polasek joked Wednesday at a news conference in the All-America Room in the Stew and LeNore Hansen Football Performance Center. "My wife just got here last night and we're sleeping on an air mattress until (Thursday)."
So, while Polasek has visions of snoozing on memory foam, he has been familiarizing himself with everything Hawkeye, including the program's vernacular.
"Sometimes we're saying things here that are exactly the opposite at my last job, where I was responsible for the whole offense," Polasek said. "I must have said scoop three or four times, and they're like, 'coach, what are you talking about?' I said, 'Oh shoot, slip was a backside block, so you get into those kind of things.
"I've asked the guys to hang in there, but we're getting to the point where it's getting to be pretty clean daily, and the more time we spend in there, the better."
What isn't lost in translation is the competency of returnees on the Hawkeye offensive line. Iowa has nine letterwinners back, including 2016 starters Ike Boettger, James Daniels, Boone Myers, and Sean Welsh. Other offensive linemen with starting experience are Lucas LeGrand, Levi Paulsen, and Keegan Render. Other letterwinners are Dalton Ferguson and Ross Reynolds.
Polasek said there are several players with excellent opportunities to compete, but in week three of spring ball, he isn't ready to anoint anyone.
"You mentioned (redshirt freshman Alaric Jackson), he's doing a nice job," Polasek said. "And there are some more guys, especially in-state kids that are competing hard and moving the program forward."
Here is what Polasek said when asked about specific Hawkeyes:
On Jackson: "I like his grit, he's an Iowa guy from a toughness standpoint. He's a pleasure to be around and I like his work habits.
"I think that he wants to be great. No matter how badly we want kids to excel and to win the Big Ten, they have to have a burning desire to want to be great, and I see that with AJ. I don't know that it's consistent enough. The part where AJ can improve is late in practice. Can he be the same guy that he was at the start and the end of practice? But I think he's one of those young guys that is providing potential that we're going to need come the middle of September and October."
On Boone Myers: "He's pretty close to prototypical (left tackle). Movement skills and his ability to bend and compete and he's a long-levered kid. Those things add up to being a tackle."
On James Daniels: "He can be really good, he's a good football player. I've been encouraged with his work ethic on and off the field. He takes time to do other things outside of football in the weight room, that's important. The one thing we keep talking about is how good can he be if he can get to the spot where he can step out in front and be a great leader for us? He's been impressive. He's had a good spring, a really good spring."
After seven practices, Polasek said it continues to be an exciting, phenomenal spring.
"It's real simple with me," Polasek said. "Compete and improve, passion, enthusiasm, have energy and urgency with it, and be aware that your teammates matter."
The Hawkeyes travel to West Des Moines on Friday for an open practice at Valley Stadium. Here is more information on that event:
The West and Southeast gates of Valley Stadium open at 5 p.m.  An ANF presentation is scheduled for 6:15, with practice to follow at 6:30. No tickets are required for the event, which is free to the public. Herky the Hawk and the Floyd of Rosedale rivalry trophy are available for photo opportunities. Roster cards, posters, schedule cards, and 2017 ticket information will be available at all open gates. 
Concession stands inside the stadium will be open and the Hawkeye Fan Shop will be open outside the west entrance. No outside food or drink is allowed in Valley Stadium. Other prohibited items include strollers and umbrellas. Bags may be subject to search upon entry to Valley Stadium.
A youth clinic is scheduled to follow the practice session. The 35-minute clinic is open for the first 300 children (ages 7-12), with all participants receiving a free T-shirt. Release of Liability forms will be distributed at the entrance gates. Forms must be completed and signed by the youth's parent/guardian and presented to University of Iowa staff at the NW Field Gate by 7:15. Parents/guardians will not be permitted on the field during the youth clinic.
An autograph session for children only will follow the youth clinic. Children will not be allowed to bring autograph items into the stadium; only items issued by Iowa staff at the event will be autographed. 
No tailgating, including open flame grills, is allowed on West Des Moines Community School District, City of West Des Moines, or Valley Church property; including before and after practice. Alcohol is never allowed on the City of West Des Moines or West Des Moines Community Schools property. All WDMCS property, including Valley Stadium, is tobacco-free.
The Hawkeyes host their spring game inside Kinnick Stadium on Friday, April 21 at 7 p.m. to conclude spring practice.