Hawkeye Fan Shop — A Black & Gold Store | 24 Hawkeyes to Watch 2016-17 | 2017 Football Season Tickets | KinnickEdge.org | Hawk Talk Monthly — April 2017 | A VIDEO — A Look Toward the 2017 Season | Signing Day Central | Practice Photo Gallery | VIDEO — LeVar Woods | LeVar Woods Transcript (PDF)
By CHRIS BREWER
hawkeyesports.com
 
IOWA CITY, Iowa — First-year special teams coordinator LeVar Woods has been on the University of Iowa campus for a long time, and Wednesday at the Stew and LeNore Hansen Football Performance Center he took a look into the way-back machine to remind people what the position means to him.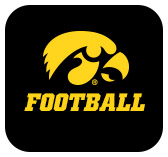 "When Coach Ferentz came in and took over this program in 1999 he had three pillars," Woods said. "He talked about winning with defense, winning with great special teams, and winning with strength and conditioning — those being our edges. That's what we've been trying to hammer home this spring."
 
Iowa was no slouch in special teams a year ago, but they have holes to fill in the specialist positions. The Hawkeyes led the Big Ten in kickoff returns and ranked second in punt returns in 2016, but the majority of the kickoff returns (27-of-32) were handled by Desmond King, and all of the punt returns where shared by King (26) and Riley McCarron (7) — both of whom have graduated.
 
The only player on the roster with any return experience is senior Matt VandeBerg, who fielded two kickoffs and 11 punts as a freshman in 2014. He's not practicing this spring after re-injuring the foot that kept him out of nine games last fall.
 
What it all adds up to is an opportunity for others to become Iowa's next man in.
 
"We have some young guys in there, Devonte Young, Manny Rugamba, Amani Hooker, they've all shown some good things," Woods said. "And then we have some guys that we're still working on."
 
With a lack of proven specialists, Woods said the coaches are tapping into every skill position to find the right people to do the job.
 
"If you're not an offensive or defensive lineman, you're in the special teams meeting," Woods said. "We're trying to develop a culture of enthusiasm and understand the importance and the impact of special teams play in a game. We're looking at everybody and trying to evaluate everybody."
 
The group of "everybody" includes starters, walk-ons, freshmen, four-year starters, and everyone in between. That was the blueprint when Ferentz arrived prior to the 1999 season — Woods' junior year — and that's where Woods wants to direct the culture in 2017.
 
"I'll use Josey Jewell as an example; three-year starter, senior, has a lot of experience playing defense. He is still the first guy in every line in every special teams drill, setting the example for everyone," Woods said. "The example makes other guys that are starters want to play. They come to my office all the time and ask, how can I get on special teams? Now, you have to be a little bit smart with where you use guys so you don't wear them out throughout a game, but we'll look at everybody right now."
 
The evaluation doesn't end in the return and coverage game. Keith Duncan returns for his sophomore season after converting 9-of-11 field goal attempts last season, but punter Ron Coluzzi, who also handled Iowa's kickoffs, has graduated.
 
Woods said assistant coach Seth Wallace will make the call on Iowa's next punter, and the two of them will collaborate on kicking duties. It's an evaluation process that could last through spring and fall camp.  
 
"You'd like to (have it identified by the end of spring), but if it takes us through fall camp, it takes us through fall camp," Woods said. "We just have to find the right guys."
 
Iowa hosts its #SWARMDesMoines football practice Friday at Valley Stadium in West Des Moines. Doors open at 5 p.m. (CT). Practice begins at 6:30 p.m. The event is free to the public.