Hawkeye Fan Shop — A Black & Gold Store | 24 Hawkeyes to Watch 2016-17 | 2017 Football Season Tickets | KinnickEdge.org | Hawk Talk Monthly — April 2017 | A VIDEO — A Look Toward the 2017 Season | Signing Day Central | Des Moines Practice Photo Gallery
By DARREN MILLER
hawkeyesports.com
WEST DES MOINES, Iowa — There isn't a height or weight limit needed to play defensive tackle at the University of Iowa, otherwise Hawkeye fans might never have heard of Mitch King, Karl Klug, or Louis Trinca-Pasat.
 
Add sophomore Brady Reiff to the list of Iowa defensive tackles who, at first glance, appear a tad bit undersized.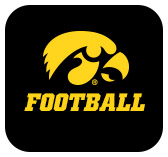 "I'm on the weight-gain list, so they are constantly bumping my weight every week," Reiff said Friday after an open practice at Valley Stadium in West Des Moines, Iowa. "I weigh about 260 pounds right now; ideally I would like to get to 270 or 280."
 
The Hawkeyes graduated defensive tackles Faith Ekakitie and Jaleel Johnson from last season's team that went 8-5 and played Florida in the Outback Bowl. Senior Nathan Bazata has been limited this spring, recovering from a high ankle sprain. Fresh bodies are in demand.
 
Enter Reiff, one of the spring success stories for the Hawkeyes. Reiff begins his sophomore season with a career total of one assisted tackle for loss that he registered during a 28-0 win at Illinois on Nov. 19.
 
"It's great to see him excel and take his game to another level," said Iowa senior offensive lineman Ike Boettger. "He is quick off the ball, fast, and explosive. I don't think his weight is as high as he wants it, but he is a very powerful guy."
 
Reiff is from Parkston, South Dakota, and is the younger brother of former Hawkeye and current Minnesota Vikings offensive tackle Riley Reiff. Brady began his career as a defensive end until the middle of November when a teammate was injured in practice prior to the game against Michigan.
 
"I hopped inside for one play because we had a guy down and I made a good play and they kept me in there," said Reiff, who was permanently moved to tackle during Outback Bowl prep.
 
Iowa defensive line coach Reese Morgan was asked last week if moving Reiff is still an experiment.
 
"I like that experiment," Morgan said. "You don't measure a guy by size. He's explosive, productive, and disruptive."
 
The Hawkeyes concluded their third week of spring drills Friday and Reiff continues to soak up everything he can about his new position. Part of the learning curve means heeding advice from veterans like Bazata and senior Jake Hulett.
 
"I'm trying to get better every day and learn from the older guys," Reiff said. "I'm still kind of new at the defensive tackle position, so I'm learning everything I can."
 
Reiff says he fits well at tackle because action moves quicker inside. It is there where he can use his power and ability to shed blocks to his advantage.
 
And when he is not on the practice field, Reiff can be found watching old footage of King, Klug, and Trinca-Pasat.
 
"I go back and look at those guys and the way they played," Reiff said. "It has helped me along the way."
 
Iowa returns to the practice field Wednesday, April 12. The Spring Game will be April 21 at 7 p.m. (CT) inside Kinnick Stadium.