Hawkeye Fan Shop — A Black & Gold Store | 24 Hawkeyes to Watch 2016-17 | 2017 Football Season Tickets | KinnickEdge.org | Hawk Talk Monthly — April 2017 | A VIDEO — A Look Toward the 2017 Season | Signing Day Central
Editor's Note: The following first appeared in the University of Iowa's Hawk Talk Daily, an e-newsletter that offers a daily look at the Iowa Hawkeyes, delivered free each morning to thousands of fans of the Hawkeyes worldwide. To receive daily news from the Iowa Hawkeyes, sign up HERE.
By RICK BROWN
hawkeyesports.com
WEST DES MOINES, Iowa — Kirk Ferentz doesn't like to play the comparison game.
 
Ask if an upcoming player reminds him of someone from his previous 18 seasons as the head football coach at the University of Iowa, and Ferentz answers with reluctance.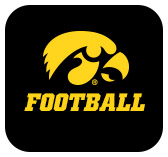 That happened again Friday night after the Hawkeyes held an open practice at Valley Stadium. This time it was running back Toren Young, one of several redshirt freshmen who has impressed coaches during spring drills.
 
At 5-feet, 11-inches and 220 pounds, Young looks like a new version of LeShun Daniels, Jr., who rushed for 1,058 yards as a senior in 2016.
 
"He may be a little bit like that," Ferentz said. "He's more of a strong back, like LeShun, or Shonn Greene. I hate to start throwing out names of guys who are accomplished players. Marcus Coker is another name that comes to mind."
 
Greene rushed for a school-record 1,850 yards in 2008. Coker's 1,384 yards in 2011 is fourth all-time. Daniels' 2016 season ranks 14th. Not a bad threesome to be compared to.
 
But Young isn't concerned with comparisons right now. He is just trying to get on the field. He is competing with Toks Akinribade, who got six games and 16 carries of experience last season as a freshman.
 
Iowa had a pair of running backs eclipse the 1,000-yard rushing mark for the first time ever last season. Akrum Wadley returns after leading the team with 1,081 yards as a junior. Wadley is being withheld from contact this spring, which means a lot of valuable reps for Young and Akinribade.
 
"We'd rather have Akrum out there, I'll be clear on that one," Ferentz said. "We'll be a better football team when he's out there. But it gives younger players more work and more repetition, and there's something to be said for that, too."
 
Young, who rushed for 2,779 yards and 28 touchdowns as a senior at Monona Grove High School in Madison, Wisconsin, said he benefitted from a redshirt season in 2016.
 
"I was anxious to play, but it was good for me," Young said. "I had some sloppy technique on some things, so I was able to clean that up. Spring has been good for me. It has helped me gain in confidence, and I'm getting a lot of reps. We have a good group of backs ready to work."
 
Akinribade, listed at 208 pounds, is currently No. 2 behind Wadley on the depth chart. He said the taste of experience he got last season was beneficial to his development.
 
"It taught me the speed of the game, really, and it has helped me become aware of what's going on on the field," said Akinribade, who is from Brownsburg, Indiana.
 
Akinribade also studied Daniels and Wadley to see what made them successful.
 
"Watching Akrum motivated me to work harder," Akinribade said. "With LeShun gone, we have to be ready to work. We have to be able to handle the amount of reps we're going to get. LeShun and Akrum made me want to run through people. That made me work harder in the weight room."
 
Akinribade said strength coach Chris Doyle wanted him to improve his weight and power in offseason workouts. He said he has added three or four pounds to his 6-foot frame.
 
"Whatever coach Doyle says, that's what I'm going to do," Akinribade said.
 
Young and Akinribade compete in Doyle's weight room, as well as the field of play.
 
"We're trying to make each other better," Akinribade said. "We're trying to make the team better overall. It starts with pushing each other."
 
Back to those comparisons Ferentz is not fond of.
 
Young said he is more Daniels than Wadley.
 
"I'm a downhill runner, a power runner, that's my style," Young said. "I watched LeShun last year, and he gave me a lot of advice. He coached me up on a lot of things. When I got here, the coaches said if there was anybody to look up to, look up to LeShun. He runs hard, he does everything right. He was a good role model for me."
 
Akinribade is more of a Daniels-Wadley hybrid.
 
"I'm a little bit of speed and a little bit of power, too," he said.