IOWA IN THE BLACK AT OUTBACK BOWL
IOWA CITY, Iowa — The University of Iowa athletics department announced today a surplus of $6,025 from its participation in the 2017 Outback Bowl in Tampa, Florida.   The Iowa football program earned its fourth straight invitation to a January postseason contest.
"While we would have liked to have a different outcome of the Outback Bowl game, it is rewarding to see that all parties involved traveled with the overall budget in mind," said Gary Barta, the UI's director of athletics.  "It is always a challenging and expensive undertaking to move such a large number of people for a bowl event.  To be able to provide a great experience for our student-athletes, marching band and staff, and to come in under budget, speaks well of the dedication of our staff in being mindful of the budget we were working with."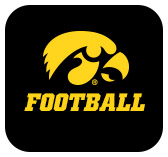 The UI athletics department was provided a share of $2,050,000 from the Big Ten Conference to cover expenses for the athletics department team and staff, the Hawkeye Marching Band, and the institutional official party. 
Expenses for the team and staff included $1,533,036, with the primary expenses including lodging and meals per diem ($575,060), air transportation ($570,414), and ground transportation ($106,266).  The UI Marching Band expenses of $449,692 included $241,319 for air transportation and $124,957 for lodging and meals.  The official UI travel party expenses totaled $61,247.
IOWA RANKS 20th IN HOME FOOTBALL ATTENDANCE
IOWA CITY, Iowa – With an increase of over 6,000 fans per home game, the University of Iowa football program ranked 20th in the nation in home attendance during the 2016 season, averaging 69,656 fans per contest.  In addition, the Hawkeyes ranked eighth-best nationally in increased average attendance over the 2015 season.  The official attendance figures were released by the NCAA on Monday.
Iowa football sold out four games (70,585) among its seven home events last season.  The Hawkeyes hosted two night games, and both featured capacity crowds as Iowa defeated Iowa State (42-3) and second-ranked Michigan (14-13).
The increase of 6,514 fans per home game over the 2015 average, while ranking eighth-best nationally, led the Big Ten Conference.  The Hawkeye football program ranked 24th nationally in total attendance for all 13 games played (62,880 average).
"We are proud to rank among the top programs in the nation in home football attendance, but it certainly isn't something we take for granted," said Gary Barta, the UI's director of athletics.  "Coach Kirk Ferentz and his staff have maintained a level of excellence in the product on the field of play.  We will continue to make home events in Kinnick Stadium enjoyable and exciting, while providing a fun, family atmosphere."
The Big Ten Conference ranked second nationally in overall attendance (66,151), drawing over 6.4 million fans as seven conference programs ranked among the top 20 in home attendance.
IOWA ADDS MIDDLE TENNESSEE STATE TO 2019 SLATE
IOWA CITY, Iowa – The University of Iowa has added Middle Tennessee State to the home football slate for the 2019 season, giving the Hawkeyes a full schedule of games for the next three seasons.  The announcement was made Tuesday by UI Deputy Athletics Director Gene Taylor.
Middle Tennessee State will visit Kinnick Stadium on Sept. 28, 2019.  The Hawkeyes open the season at home against Miami, Ohio and Big Ten foe Rutgers.  Iowa travels to Iowa State and has an open weekend before closing the nonconference schedule against the Blue Raiders.
Middle Tennessee State posted an 8-5 record in 2016, earning a spot in the Hawaii Bowl, where it dropped a 52-35 contest to the host school.  Middle Tennessee State averaged 39.7 points per game.  MTSU scored 51 points in a win at Missouri.
Coach Rick Stockstill has been at Middle Tennessee State for 11 seasons, posting a 72-65 record.  Stockstill has led the Blue Raiders to six bowl games and MTSU has been bowl eligible eight of the past 11 seasons.
Iowa's nonconference slate in 2017 includes Wyoming and North Texas at home, and a road game at Iowa State.  In 2018, the Hawkeyes host Northern Illinois, Iowa State, and Northern Iowa to open the season.