Hawkeye Fan Shop — A Black & Gold Store | 24 Hawkeyes to Watch 2016-17 | 2017 Football Season Tickets | KinnickEdge.org | Hawk Talk Monthly — April 2017 | A VIDEO — A Look Toward the 2017 Season | Signing Day Central | Practice Photo Gallery | Kelton Copeland Transcript (PDF)
By DARREN MILLER
hawkeyesports.com
IOWA CITY, Iowa — Kelton Copeland has been on the job as University of Iowa wide receivers coach for less than two months. That means his proverbial slate is clean, which he says is also the case for every receiver on the Hawkeye roster.
Of the four returning wide receiver letterwinners, only junior Adrian Falconer and sophomore Devonte Young are currently going through spring drills. Senior Matt VandeBerg is recovering from a second foot surgery and junior Jerminic Smith is taking what Hawkeye fans hope is an extended study hall.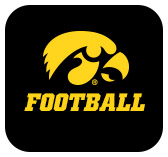 "Coming into this thing, everybody has a clean slate whether they've been here four or five years or just starting off like me," Copeland said Wednesday at a news conference in the Stew and LeNore Hansen Football Performance Center. "Everybody's brand new and everybody has a clean slate."
 
The only Hawkeye in spring camp with a reception last season is junior Ronald Nash, who caught single passes against Miami (Ohio) and Northwestern.
 
"Stats, to me, are for fans," Copeland said. "It's more about being productive."
 
With a low number of returnees, Copeland is working to grow and develop the personnel he has in the receiver room. His mindset is helping the inexperienced gain experience through fundamental drills and fundamental play.
 
"It's all about who we have in the room that we're working with," Copeland said. "It doesn't matter if you're on scholarship or you're a walk-on, fourth- or fifth-year guy, or true freshman. The guys that earn my trust and earn the trust of the rest of the coaching staff and their teammates — those are the guys that are going to play.
"I can't be concerned about scholarship numbers, who is in the room, who is not in the room, who may be playing, who may not be playing because of injury or any other thing. My biggest focuses are getting those guys better, developing that room, and growing that room as a whole, and that's what we're doing."
 
What isn't in the room right now is the incoming recruiting class that includes Max Cooper, Henry Marchese, Brandon Smith, and Ihmir Smith-Marsette. Copeland said he has spoken to all the recruits, letting them know there is opportunity, but no guarantee of playing time when the season kicks off Sept. 2 against Wyoming.
 
"Is there opportunity for you to come in and play? Absolutely," Copeland said. "Now that's up to the particular individual what they do with that opportunity. If you prepare, do the things you need to do so when you get here you're prepared as well as you can be, then the opportunity might come sooner than later. If you don't prepare, you don't take the necessary steps to make sure you're ready to go when you get here, then the opportunity might not be there when you get here."
 
Copeland said junior Nick Easley has been a pleasant surprise after 10 practices. Easley, a native of Newton, Iowa, caught 72 passes for 954 yards and seven touchdowns last season at Iowa Western Community College.
 
"Nick is one of those guys who is producing at a steady rate and he's getting better by the day," Copeland said. "He has done some things in my eyes that is going to put him in the conversation."
 
Last season Smith had 23 receptions for 314 yards and two touchdowns. Prior to the April 7 practice at West Des Moines Valley, he was pulled from football activities for not meeting team academic standards. Copeland was asked if he thought Smith would return.
 
"I hope so," Copeland said. "It's up to him. The ball's in his court, so we'll see."
 
Prior to an injury before the fifth week of the 2016 season, VandeBerg was leading the Hawkeyes with 19 receptions, 284 yards, and three touchdowns. The previous season he caught 65 passes for 703 yards.
 
Copeland added that sophomore Dominique Dafney, an elite all-state receiver from West Des Moines Valley, is "doing a great job."
 
Iowa returns to the practice field Thursday. The annual spring game will be April 21 inside Kinnick Stadium.