Hawkeye Fan Shop — A Black & Gold Store | 24 Hawkeyes to Watch 2016-17 | Hawk Talk Monthly — April 2017 | NOTES NCAA Championships
ST. LOUIS, Missouri – Senior Angel Metcalf and freshman Clair Kaji of the University of Iowa women's gymnastics team will compete for a national title in the first semifinal round of the 2017 NCAA Women's Gymnastics Championships in the Chaifeitz Arena on Friday at 12 p.m. (CT).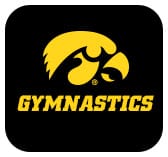 "We are ecstatic to be returning to the national championship and where this could take the future of our program," said UI head coach Larissa Libby. "After having Mollie qualify as an individual last year, we feel like it helps keep us on the national scene. Angel and Clair are an excellent representation of Iowa, and I could not be more proud of them and the entire team."
 
Metcalf will compete as an individual all-around competitor and Kaji will appear as an individual event specialist on beam. Metcalf will rotate with Denver, while Kaji will appear on beam with Utah in the fourth rotation.
 
The pair advanced to the national championships after tying for first on beam with career-highs of 9.950 at the NCAA Champaign Regionals on April 1. They led Iowa to a record-breaking rotation on beam with a 49.600.
 
Metcalf posted a 39.300 in the all-around to take third. Since the first and second place competitors — Oregon State's Kaytianna McMillan (39.400) and UCLA's Madison Kocian (30.375) — advanced with their teams, Metcalf qualified as an individual. This allowed Kaji to qualify as a specialist on beam.
 
This marks Metcalf's first appearance at the national championships. The senior competed in every meet this season, appearing in the all-around for six meets. Over the course of the season, she collected nine event titles, with four bar titles and five beam titles. In addition, she was named First Team All-Big Ten and garnered All-Championship honors at the Big Ten Championships. Metcalf also holds the Iowa's season highs on bars (9.950), beam (9.950), and in the all-around (39.375).
 
Kaji competed in every meet this season and earned seven titles, including three on beam, three on floor, and one on bars. She was also named Second Team All-Big Ten and earned Big Ten Freshman of the Week honors twice this season.
 
The meet will air live on ESPNU. Fans can also follow along through live streaming and live stats. Links to live stats and live streaming will be available on hawkeyesports.com. Fans can also follow @IowaGymnastics on Twitter and Instagram or on Facebook at facebook.com/iowagymnastics.