Hawkeye Fan Shop — A Black & Gold Store | 24 Hawkeyes to Watch 2016-17 | Hawk Talk Monthly — April | Final Results
ST. LOUIS, Missouri – University of Iowa gymnasts Angel Metcalf and Clair Kaji represented the Hawkeyes at the 2017 NCAA Women's Gymnastics Championships in the first of two sessions on Friday afternoon inside Chaifetz Arena.
Metcalf competed as an individual all-arounder and Kaji appeared as an event specialist on beam on the largest stage in NCAA women's gymnastics.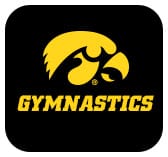 Oklahoma won the first session with a mark of 197.7250. UCLA placed second (197.5000), while Utah took third (197.0500). Washington (196.5625), Denver (196.4750), and Oregon State (196.3625) followed to round out the competition.
"I am very pleased with how Clair and Angel did today," said UI head coach Larissa Libby. "For a first time competitor, Clair killed it on beam. To ask her to come out on the national scene for the very first time with the likes of national champions and Olympians is so hard, and I thought she handled herself like a champion.
"It was Angel's first time being here as well. To come out and have of her highest all-around scores at the national championship is amazing. I think the two of them represented Iowa to the best of their ability. I think people will notice how great they were, and I am hoping that will carry over into next year. I am just so proud of them."
  Metcalf rotated with Denver and began the competition on beam, where she posted the highest score of the rotation with a 9.8750. The senior tied for 13th in the event.
Following a bye, Metcalf moved to floor and tied her season-high score of 9.8750 to finish tied for 13th place. On vault, Metcalf registered a score of 9.7250.
The senior capped the afternoon on bars with a score of 9.8375 to tie for 16th. Metcalf finished 12th in the all-around with a total score of 39.3125.
"Being here was such an amazing experience," said Metcalf. "I've never been in the NCAA Championships before, and I was excited and honored to be able to represent the University of Iowa. I think I had a great career, but I really don't think it has hit me yet that I'm never going to do gymnastics again. I am so thankful and happy for everyone and anything that has helped to bring me to this point."
"I don't think that we could have asked for a better end to Angel's career," said Libby. "To end her career with four perfect events at the national championships is the Cinderella story. I think people paid attention to her and that she stood out, and that is exactly how I hoped her career would have ended – on a high note. "
Kaji appeared with Utah on beam and earned a score of 9.8625. The freshman finished tied for 17th in the event.
"Since I was only competing on beam today, it was a little nerve wracking due to all of the sitting and waiting," said Kaji. "It was a little difficult, but I got through it and I am happy with how I performed. I am so thankful that I got to come here with Angel. To get this experience as a freshman and in this huge arena, even just competing in one event, is amazing."
Metcalf and Kaji helped lead the GymHawks to one of the most impressive season in Iowa history. Iowa finished the regular season ranked No. 17 nationally and finished third at the NCAA Champaign Regional with a score of 195.050. In 2017, Metcalf earned nine event titles, with five on beam and four on uneven bars, while Kaji collected seven titles, including three on beam, three on floor, and one on bars.
The duo shared Iowa's season high score on beam (9.950), while Metcalf captured the team's season high score on bars (9.950) and in the all-around (39.375).
"I think if you have a goal, you have to know what it looks like, and I think our team saw that today by being here to watch today by having Angel and Clair compete," said Libby. "Just from an experience standpoint, I think it makes a difference. We have seen it twice, now it is time to bring everyone back – not in the stands but on the floor."