Hawkeye Fan Shop — A Black & Gold Store | 24 Hawkeyes to Watch 2016-17 | 2017 Football Season Tickets | KinnickEdge.org | Hawk Talk Monthly — April 2017 | A VIDEO — A Look Toward the 2017 Season | Signing Day Central
Editor's Note: The following first appeared in the University of Iowa's Hawk Talk Daily, an e-newsletter that offers a daily look at the Iowa Hawkeyes, delivered free each morning to thousands of fans of the Hawkeyes worldwide. To receive daily news from the Iowa Hawkeyes, sign up HERE.
By RICK BROWN
hawkeyesports.com
IOWA CITY, Iowa — The University of Iowa's offensive line is probably the best-coached position group on the team.
 
"Best coached, or most confused?" said Iowa head coach Kirk Ferentz. "It's one or the other."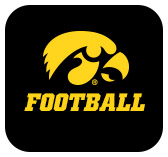 Iowa has a new offensive line coach this season in Tim Polasek.  He replaced Brian Ferentz, who became the offensive coordinator and running backs coach in the offseason. When Brian was named offensive line coach in 2012, Reese Morgan moved from offensive line to defensive line.
 
Strength coach Chris Doyle is a former offensive line coach. And Kirk Ferentz, entering his 19th season as Iowa's head coach, came to Iowa City for the first time in 1981 to be Hayden Fry's offensive line coach, a position he also coached as an NFL assistant.
 
"It's like kids hearing too many things from too many voices," Ferentz said. "But we're all talking with the same voice. We have an abundance of quote, unquote, people who think they are experts. We'll see…I don't know."
 
Good-natured joking aside, Ferentz knows his offensive line will go into the 2017 season as one of the most experienced positions on the team.
Four players enter the season with at least 12 starts in the offensive line — left tackle Boone Myers (22 starts), center James Daniels (12), right guard Sean Welsh (36), and right tackle Ike Boettger (19). Keegan Render, currently listed No. 1 at left guard, started seven games last season. Lucas LeGrand, Daniels' backup at center, started two games in 2016, and Levi Paulsen, No. 2 behind Welsh at right guard, started once.
 
"Where you have experience, you hope guys are performing well." Ferentz said.
 
Polasek, who came from North Dakota State, is getting good reviews from his players.
 
"All the guys are liking him," Boettger said. "We're all buying into everything he's having us do, and it has been fun."
 
Don't look for Polasek to make significant changes in the way the offensive line plays.
 
"I guess if it's not broke, don't fix it," Boettger said. "He's taking that kind of mindset. We're doing a few different drills in practice he has brought, and I think the guys are liking those. For the most part, it's about the same."
 
Boettger said Polasek is a high-energy coach.
 
"I think we're all jelling real well with him," Boettger said.
 
Daniels also said it has been a smooth adjustment to a new offensive line coach.
 
"When he first got hired, I went into his office and talked to him for 10 or 15 minutes," Daniels said. "After that meeting I knew what kind of coach he was. I knew what he was all about. Right when I met coach Polasek, I knew I was going to be comfortable with him."
 
Brian Ferentz is putting his own stamp on the offense in his first season as coordinator, but Daniels says that hasn't been a big adjustment for the offensive line.
 
"Offense is offense," Daniels said. "You can either run block or pass clock. Nothing has really changed."
 
But the line coaching is coming from several places.
 
"Brian Ferentz coached something a certain way," Daniels said. "Coach (Kirk) Ferentz coaches something a certain way, too. Coach Polasek, he coaches a certain way, too. It's pretty cool to have three mastermind coaches together, coaching not just me but the offensive line."
 
The Hawkeyes will host their annual spring game on April 21 at 7 p.m. (CT) inside Kinnick Stadium.