Hawkeye Fan Shop — A Black & Gold Store | Hawkeyes in the NFL | 24 Hawkeyes to Watch | Hawk Talk Monthly — April
IOWA CITY, Iowa — The University of Iowa will conclude spring practice with its spring football game Friday, April 21, at Kinnick Stadium, presented by Coca-Cola.  The game will begin at 7:06 p.m., with gates opening at 6 p.m.  There is no admission charge.
 
The Iowa spring game will feature the offense versus the defense, using a scoring system for both sides of the ball that has been used in recent years.  The game will be broadcast live on BTN2GO, and will be shown on BTN on a tape-delayed basis beginning at 8:30 p.m. on Friday.  John Campbell, former KCRG-TV sports director, will call the play-by-play, with former Hawkeye football players Chuck Long (analyst) and Danan Hughes (sidelines) providing commentary.
 
The Hawkeye Sports Network will be on the air from 7 to 9 p.m., with Gary Dolphin and Rob Brooks discussing spring football and the upcoming season.  Among the affiliates carrying the game are KCZE (Charles City), KDEC (Decorah), KIFG (Iowa Falls), KROS (Clinton), KUOO (Spirit Lake), WDBQ (Dubuque), WHO (Des Moines), WMT (Cedar Rapids), and WOC (Davenport).  The broadcast can also be heard on Sirius channel 136 and XM 195 on satellite radio.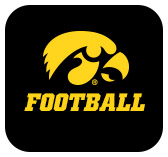 The west grandstands only will be open for spectators.  Gates C, E, G and H will open at 6 p.m.  All parking lots will open at 5 p.m.  Roster cards for the spring game will be available at the entrances, along with schedule posters, Iowa schedule cards for the 2017 season and B1G posters and schedule cards. Normal game day procedures will be in effect.  Patrons should expect delays if they are attempting to carry purses or bags into Kinnick Stadium.
 
Complimentary parking will be available in all surface lots near Kinnick Stadium.  Fans are reminded that Iowa City ordinance prohibit the consumption of any alcoholic beverage on UI and public property, which includes UI parking lots and parking ramps.  As in the past, the ordinance is in effect on the day of the spring game.
 
Fans with recreational vehicles will be able to park Friday after 5 p.m. in UI Lot 75 south of Carver-Hawkeye Arena.  Please note:  normal daily parking rates will be in effect in the parking ramps adjacent to UI Hospitals and Clinics.
 
The autograph session and food drive, which have been a part of spring game activities in the past, will be held as part of Kid's Day next fall.  Sponsored events will be held near Gate B and Gate H inside the stadium, including Coca-Cola, Iowa Corn, Iowa Pork, US Cellular, Nissan, Blue Bunny, and The Hawkeye Fan Shop.  There will not be activities held in Krause Family Plaza outside the stadium.
 
Iowa opens the 2017 football season Sept. 2, hosting Wyoming.  The Hawkeyes travel to Ames for the Iowa Corn Cy-Hawk Series game with Iowa State on Sept. 9 and conclude nonconference play at home against North Texas on Sept. 16.  The Hawkeyes will host five Big Ten Conference home games, beginning Sept. 23 with defending champion Penn State.  Additional conference home opponents include Illinois (Oct. 7, Homecoming), Minnesota (Oct. 28), Ohio State (Nov. 4), and Purdue (Nov. 18).  Iowa travels to Michigan State, Northwestern, Wisconsin, and Nebraska.
Questions concerning the purchase of 2017 football tickets, including general public, UI faculty/staff and UI student seasons tickets by current UI students, should be directed to the UI Athletics Ticket Office.  The office is open weekdays from 9 a.m. to 4 p.m.  The office telephone number is 1-800-IA-HAWKS.  Information is also available at hawkeyesports.com/tickets.