Hawkeye Fan Shop — A Black & Gold Store | 24 Hawkeyes to Watch 2016-17 | Hawk Talk Monthly — May 2017
 
Editor's Note: The following first appeared in the University of Iowa's Hawk Talk Daily, an e-newsletter that offers a daily look at the Iowa Hawkeyes, delivered free each morning to thousands of fans of the Hawkeyes worldwide. To receive daily news from the Iowa Hawkeyes, sign up HERE.
By JAMES ALLAN
hawkeyesports.com
IOWA CITY, Iowa — Head coach Dave DiIanni saw growth from the University of Iowa soccer team during the spring season.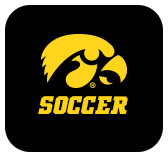 Iowa played five spring contests, including three against top-25 foes (and four against top-36 opponents).  The Hawkeyes went 1-2-2 during the spring in games against Saint Louis (L, 0-2), Minnesota (T, 0-0), Notre Dame (T, 1-1), Drake (W, 4-0), and Kansas (L, 0-1). 
 
Notre Dame, Minnesota, and Kansas were 2016 NCAA Tournament teams.
 
"We were more consistent in all areas throughout the spring," said DiIanni. "Defensively, we were able to commit the energy and effort for 90 minutes.  Tactically, we grew a great deal in terms of understanding roles and responsibilities, and we were able to do it for prolonged period of times."
 
Consistency was a large spring focus following a fall season where the Hawkeyes lost seven one-goal games in Big Ten Conference play.  All seven contests were scoreless at the half.
 
"Our big focus was about getting over that hump and staying committed to the game plan," said DiIanni. "Consistently, we were able to grow and have prolonged stretches of good soccer."
 
Three of Iowa's spring opponents will be on the docket as part of the 2017 schedule.
 
"We wanted to play as tough of a spring as we could to replicate what we were going to get this fall," said DiIanni. "We felt we had to have some answers."
 
DiIanni saw players improve up-and-down the roster.  He says senior Karly Stuenkel built off her junior campaign, where she scored five goals and added four assists — a season where she was Iowa's Co-Most Valuable Player and Offensive Player of the Year.
 
"Karly was able to translate her success from last fall into this spring as both a leader and a player we can count on on the field," said DiIanni.
 
DiIanni also saw steady growth from juniors Morgan Kemerling and Rose Ripslinger, and sophomores Claire Graves, Kaleigh Haus, Bella Blackman, and Olivia Fiegel.
 
"Heading into the spring, we knew we would grow, and that progress would be made, but for us to be successful next fall, a lot of hard work will have to continue this summer," said DiIanni. "That's the key; how much are they able to translate what we did this spring into the summer?"
 
DiIanni says it is clear the Hawkeyes are better now than they were when the 2016 season came to a close in November.  He says the key to 2017 will be the progress that the players make over the summer before reporting for fall camp in August.
 
"Our team understands that we took a step forward and grew in a number of areas," he said. "But it's important they understand that we did take just one step; there are many more that we need to take for this program to get to where we want it to be."
 
The Hawkeyes will return 23 letterwinners and nine starters for the 2017 season.